Round Quick-Changers include safe-lock mechanism.
Press Release Summary: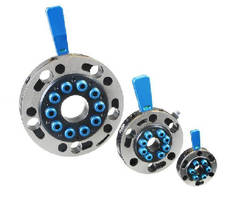 Designed to withstand strong vibrations and rapid acceleration, SR Series provides reliable connection between assembly and material handling robots and gripper systems. Units feature snap-on SAFE-LOCK mechanisms, color-coded locking indications, and pneumatic air connections incapable of being misaligned. Made of high-strength, anodized aluminum alloy, quick-changers come in 50, 90, and 150 mm diameters with max lift capacity of 200, 400, and 1,000 N, respectively.
---
Original Press Release:

FIPA Releases a New Series of Round Quick-Changers with a Robust SAFE-LOCK Mechanism



Featuring a SAFE-LOCK mechanism, visual locking indications, always-aligned pneumatic air connections, & robust construction, the new SR Series quick-changers provide an extremely reliable connection between assembly & material handling robots & gripper systems



CARY, N.C. — FIPA Inc., a leading manufacturer of advanced vacuum technology, gripper systems, air nippers, tube lifters, and End-of-Arm-Tooling (EOAT), has released a new series of round quick-change systems, which provide an extremely reliable connection between assembly and material handling robots and gripper systems. Designed to withstand strong vibrations and rapid acceleration, the new SR Series quick-changers feature innovative, snap-on SAFE-LOCK mechanisms, color-coded locking indications (red for locked, green for open), and pneumatic air connections incapable of being misaligned, ensuring maximum functional reliability and further improving process safety.



"Thanks to the visual locking indication, operators can immediately tell whether our SR Series quick-changers are securely closed and ready for operation," said Rainer Mehrer, president of FIPA. "This feature, in combination with the series' extremely reliable SAFE-LOCK mechanism, always correctly-aligned pneumatic connections, and robust construction, provides users with error-free operation they can trust."



Made of high-strength, anodized aluminum alloy, SR Series quick-changers are currently available with diameters of 50mm, 90mm, and 150mm, feature a high repeat accuracy of +/- 0.025mm, and can withstand working pressure of up to 6 bar and working vacuum of up to -1 bar. Lifting force, maximum torque, maximum bending moment, and weight varies for each device. SR Series quick-changers with a 50mm diameter have a maximum lift capacity of 200N, weigh 65g (2.29oz), and can handle up to 50Nm torque and 30Nm bending moment. Quick-changers with a 90mm diameter have a maximum lift capacity of 400N, weigh 320g (11.29oz), and can handle up to 100Nm torque and 60Nm bending moment. Lastly, SR Series devices with a 150mm diameter have a maximum lift capacity of 1,000N maximum lifting force, weigh 1,190g (41.98oz or 2.62lb), and can handle up to 250Nm torque and 100Nm bending moment.



Additionally, the 90mm and 150mm diameter devices are compatible with both FIPA and third-party quick-change systems.



For more information about FIPA's new SR Series quick-changers with SAFE-LOCK, please visit http://www.fipa.com/en_US/products/2357992-round-safe-lock-quick-change-systems/25/1 to download product datasheets and CAD files or request a quote. For all other inquiries, please visit http://www.fipa.com, call 919-651-9888, or write to 1855 Evans Road, Cary, NC 27513.



About FIPA, Inc.

Founded in 2006 as a fully owned subsidiary of FIPA GmbH, FIPA Inc. is an international innovator and manufacturer of advanced vacuum technology, gripper systems, air nippers, tube lifters, and End-of-Arm-Tooling (EOAT) for automated assembly equipment and material handling systems. Spanning components to complete systems, FIPA's products are broadly employed in applications ranging from packaging, automotive assembly, and manufacturing automation equipment to material handling systems designed to move plastics, metals, glass, wood products, and, for printing equipment, paper and films. FIPA also delivers flexible, dynamic solutions on short lead times, and provides superior service and technical support.



Founded in 1985 and headquartered in Ismaning, Germany, FIPA GmbH has steadily expanded its global presence in recent years, adding representations in the United States, Thailand, Poland, Hungary, and Turkey. For more information about FIPA's products, services, and news, please visit http://www.fipa.com.



For more information, please contact:

Jennifer Gerdhenrichs, Manager

International Marketing Communication

FIPA Group

0049-89-962-4890

jgerdhenrichs@fipa.com

More from Sensors, Monitors & Transducers