Round Base Magnetic Assemblies are rubber-coated.
Press Release Summary: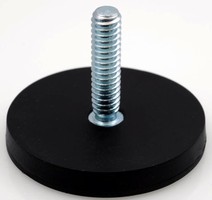 Neodymium Round Base (Neo RB) magnetic assemblies with stud and standoff pieces have pulling force of 20, 32, or 105 lb. Encased in steel, they are available in standard black rubber coating that resists rust and scratches and in diameters of 1.677, 2.574, and 3.471 in.; additional sizes and strengths may be specified. They are suited for wide range of applications including antenna mounts, holders for vehicle flags, signs, and banners, bases for work/emergency lights, and as fasteners.
---
Original Press Release:

Adams Introduces Rubber-Coated, Neo, Round Base, Magnetic Assemblies



Elmhurst, Illinois - Adams Magnetic Products Co. introduces its Neodymium Round Base ("Neo RB") magnetic assemblies with rubber coatings. Adams engineers and fabricates this rare earth magnetic material into steel-encased assemblies and applies a protective rubber coating that resists rust and scratches.

Typical uses for these powerful, compact, portable, magnetic assemblies include:

antenna mounts;
holders for vehicle flags, signs and banners;
bases for work lights and emergency lights;
and as fasteners within point-of-purchase displays, exhibits and retail fixtures.

"Adams' Neo assemblies already are up to 32 times stronger than individual ceramic magnets. Our rubber-coated products offer nearly three times the shear strength of much larger, coated assemblies," says Craig Myers, Adams' national sales manager.

"Adams is one of the first companies to work with Neo assemblies and our experience allows us to quickly supply assemblies with durable finishes and versatile mounting holes to insert a bolt, hook or clip," adds Myers. "Our high-quality Neo RBs combine one of the strongest magnetic materials, with our most popular magnetic assembly shape, and a protective rubber coating for long-lasting, reliable performance."

Adams' "Neo" Round Base products with stud and standoff pieces have a pulling force of 20-, 32-, or 105-pounds. Encased in steel, they are available in standard black rubber coating and in diameters of 1.677-, 2.574-, and 3.471-inches. Additional sizes and strengths may be specified.

For more information on Adams' Neo round base, rubber-coated magnetic assemblies or other magnetic products, please visit www.adamsmagnetic.com, or call 800-747-7543.

Established in 1950, Adams Magnetic Products Co. sets the standard for designing and manufacturing innovative magnetic products and assemblies. One of the oldest U.S. companies in the industry, its staff draws from a depth of engineering, fabricating, coating, testing, sourcing, handling, and distributing expertise managing inventory and delivery to coincide with customers' production cycles and schedules. Adams stocks a large variety and quantity of the most popular magnetic products and has the capabilities to produce magnets of virtually any shape and size.

Adams Magnetic Products Co.
Corporate Office: 888 Larch Avenue,
Elmhurst, IL 60126