Rotolok's New Plug Feeder Meets FDA Standards
Press Release Summary: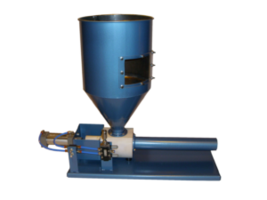 Plug Feeder is offered in range of sizes and provides a feed rate of up to 2 tonnes per hour. Unit is suitable for applications in bulk solids handling industry. The feeder comes with pneumatic or electric agitators, stainless steel construction and various hopper designs. Unit provides flexible equipment orientation and low running costs.
---
Original Press Release:
Rotolok Launches New Plug Feeder
Rotary Airlocks specialist Rotolok has worked in partnership with Solitec Engineering to produce a new, innovative feeder to complement its current product range. The Plug Feeder is available in a range of sizes to provide feed rates up to 2 tonnes per hour. It is available as a volumetric feeder as well as for loss in weight applications with the addition of a weigh platform.
The new Plug Feeder provides an economical alternative to traditional volumetric feeders and loss in weight feeders with a number of key advantages including: the only moving part is the cylinder; minimal working of the product; flexible equipment orientation via flexible outlet hose; low running costs requiring only compressed air and single-phase power. Various feed hopper designs are available incorporating pneumatic or electrical agitators to suit individual applications.
Suited for a wide range of applications in the bulk solids handling industry, Plug Feeders can be provided in a range of materials of construction including stainless steel and FDA approved materials for product contact parts.
The Plug Feeder offers a new innovative approach to feed applications where the major factors are to maintain product integrity and economy, both in purchasing and future maintenance.
To make an enquiry about our Plug Feeder or any other product, please contact the Rotolok sales team.
More from Controls & Controllers