Rotex, Inc. Takes APEX(TM) Screener on the Road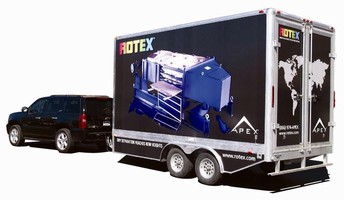 August 13, 2007

Rotex, Inc., a global leader in screening technologies, has launched its new product road show for the APEX(TM) Screener, a self-contained production screening machine that retains the gyratory motion and efficient processing characteristics of the ROTEX® Screener, yet incorporates new ergonomically-designed performance and service features.

The Road Show enables customers, prospects, and the media to experience the benefits of the new APEX Screener; including its superior construction, ergonomic design, and enhanced service features. Attendees can envision the product in operation, and physically experience the features that allow for efficient screening performance, quick and easy maintenance and cleaning, and increased process "up-time".

"We developed the Road Show to bring our customers a "hands-on" experience with the new machine." said John Gerhardt, Marketing Manager of Rotex, Inc. "We want our customers to see first-hand the value that we're able to add to their applications."

The APEX Road Show will continue its current tour through the end of July with a second tour planned for mid-August. The show consists of product demonstrations, Q&A Sessions, and consultation from knowledgeable product experts. The current tour includes visits in the South and Midwest. The schedule for the second tour will be finalized soon. Those interested in having the tour visit their plant can visit www.rotex.com/apex and click on the APEX Road Show link.

The APEX Screener comes standard with the same great features found on the ROTEX® Screener-gyratory-reciprocating motion, positive screen cleaning, and bouncing balls to reduce blinding, inlet/outlet connections, etc.; however, the APEX is enhanced with side access doors to enable efficient screen cleaning and changes. These side access doors enable quick screen changes and cleaning by only one person, increasing production uptime.

Customers already using the ROTEX Screener can achieve immediate labor cost savings and a return-on-investment (ROI), often between one to three years, after upgrading to the new APEX Screener.

The APEX delivers lower operating cost through one person maintenance and inspection in addition to higher productivity through faster screen changes and inspection/cleaning, yielding more uptime. Maintenance and cleaning by one person is easy due to operator lifted components weighing no more than 40 pounds. Screen panels weigh only 5 pounds.

The APEX Screener is the smart solution for dry separation screening of chemicals, fertilizers, clay/non-metallic minerals, industrial sand, salt/potash/soda ash, food processing, sugar, crushed minerals, refractory, water filter/treatment, feed pellets, meat meal, bakeries and cereals, corn processing, starch, sweeteners, forest products, commodity pellets, resin, pet food, oil seed processing, grain cleaning, engineered pellets, metal powder, rubber processing, soaps and detergents.

About Rotex, Inc.
Rotex, Inc. is a pioneer and global leader in the development of screening equipment and technology for the process industries. Rotex offers an innovative line of separation equipment that includes; Gyratory and Vibratory Screeners and Sifters for Dry Applications, Liquid-Solid Separators for Wet Applications, Automated particle Size Analyzers, and Vibratory Feeders and Conveyors. ROTEX® Parts & Service offers a full range of genuine parts and rebuild services.

To find out how the APEX(TM) can increase your productivity, contact Rotex, Inc., 1230 Knowlton St., Cincinnati, OH 45223, www.rotex.com/apex, 1-800-453-2321, Fax (513) 541-4888, or e-mail info@rotex.com.

More from Fluid & Gas Flow Equipment