Rotating Joint WU Wrist Unit comes with battery-less absolute encoder.
Press Release Summary: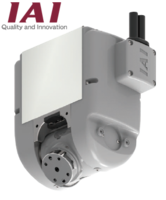 Rotating Joint WU Wrist Unit is available in T-axis and the B-axis which can rotate ±360 degrees and ±100 respectively. Product is offered in small S type and medium M type which weighs 1.6 kg and 2.8 kg each. S type and M offers maximum payload of 1.0 kg and 2.0 kg respectively. Device is suitable for single-axis and Cartesian robot applications.
---
Original Press Release:
IAI America's New Rotating Joint Wrist Unit Adds More Capabilities to Single Axis & Cartesian Robots
IAI America made heads turn with the new 2-axis rotating joint WU Wrist Unit. The T-axis can rotate ±360 degrees and the B-axis has ±100 degrees of rotation.
Equipped with a battery-less absolute encoder as standard, IAI's unique design made the units light and compact. The small S type weighs 1.6 kg and handles a maximum payload of 1.0 kg. The medium M type weighs 2.8 kg with maximum payload of 2.0 kg.
Diagonal approaches and tip swiveling, possible until now only with vertically articulated robots, can now be performed with the minimum required axis configuration by combining the wrist unit with single-axis and Cartesian robots. This is ideal for reducing the cost of equipment.
A Cartesian robot can move a wrist unit in long, straight lines making it capable of working in tight spaces. Many different combination patterns, number of axes and stroke can be selected to fit according to the application.
Data sheets and CAD drawings detailing specifications and measurements are available to download at www.intelligentactuator.com/wrist-unit-wu/
IAI manufactures a full range of SCARA Robots, Electric Linear Actuators, ROBO Cylinder®, Table Top Robots, Cartesian Robots and Controllers.
For more information, please visit www.intelligentactuator.com or contact Antonio Jimenez at (310) 891-6015.
More from Robotics