Rotating Display Kiosk increases information dissemination.
Press Release Summary: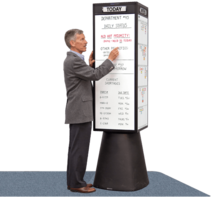 Suited for displaying production metrics, RotoCube® magnetic dry-erase KPI scoreboard Bulletin-Towers help production managers improve productivity. Freestanding design enables 4-sided tower to be moved to best location within work cell as to optimize visibility. Solution may be combined with dry-erase KPI Pyramid scoreboard panels and Red/Green Flip-Over magnets. There are also 29 different standard magnetic dry-erase panel styles available for communicating various information.
---
Original Press Release:
Show Daily KPI Productivity Targets-met on RotoCube Rotating Bulletin Towers
Macedon, NY – Production managers improve productivity by using the new compact RotoCube® magnetic dry-erase KPI scoreboard Bulletin-Towers.  "We are up 10% since we started using these KPI boards" says a Georgia Continuous Improvement Manager. "People need feedback. Every minute of the day is worth X units of production and when they fall short, they need to know" says a Michigan auto parts manufacturer "Where you display production metrics is very important. People won't look at a board if they can't see it easily. Because the RotoCube® is freestanding we can move it to the best location within a work cell so everyone knows how we are doing"

"What gets measured gets done" says Magnatag® spokesman Christian Krapf, "The concept is simple but our customers tell us employees don't pay attention to performance metrics unless they are easy to see and understand. They say the 4 sided, freestanding RotoCube® combined with special designed dry-erase KPI Pyramid scoreboard panels and easy to understand Red / Green Flip-Over magnets work for them."

In addition to the KPI Pyramid scoreboard, RotoCubes® are available with 29 different standard magnetic dry-erase panel styles for communicating a variety of information. They come complete with everything needed to operate them including customizable board headings. For information go to www.magnatag.com/kpitower or call Magnatag at 800 624 4154.

• About Magnatag®: Founded in 1967, Magnatag Visible Systems® (A division of W.A. Krapf, Inc.), designs, manufactures and direct-markets over 2,300 plain and task-specific magnetic printed steel whiteboard kits, calendar planners, maps, custom boards, WhiteWalls, Bulletin Towers, document display, magnets, whiteboard accessories and other data display systems. Familiy owned since 1967, visit www.magnatag.com.
More from Electrical Equipment & Systems