Rotating 5-Sided Display moves info off walls and into traffic.
Press Release Summary: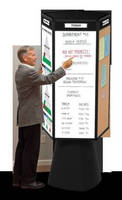 Actuated via finger touch, 5-sided RotoCube® rotates silently in either direction to display information on 5 sides that, combined, offer 32 ft of display space. This lets several people view information concurrently without crowding. There are 35 different side panels – plain and printed magnetic dry erase bulletin boards, cork and fabric bulletin boards, calendars, document displays, and custom – that may be used in any combination in office, factory, or institutional environments.
---
Original Press Release:
Magnatag Introduces a New 'Spin' on the Whiteboard
Macedon, NY -- Magnatag has announced a new variation on their popular line of dry erase products. The new five-sided RotoCube® is designed to move information off of traditional wall mounted whiteboards and bulletin boards, and into the traffic stream where it can command attention. RotoCube rotates silently with a finger touch in either direction to display information on five sides, totaling up to 32 feet of display space, which is equivalent to a 4'x8' hanging board.

"Whiteboards and bulletin boards provide instantly accessible news and information and are most effective when displayed in high traffic areas where people gather, pass by, meet, and relax. Unfortunately, these areas often lack specific wall space to display a board where it will be the most useful", says Christian Krapf, Managing Partner of Magnatag Visible Systems. "RotoCube's 32 square feet of whiteboard and bulletin board space and its small footprint positions information where it is most likely to get people's attention so they will stop and read it. The unique design lets several people view it at once without crowding the area."

The RotoCube can be ordered with a combination of 35 different side panels including plain and printed magnetic dry erase bulletin boards, cork and fabric bulletin boards, calendars, document displays, or custom design panels to meet the need of any office, factory or institutional environment. RotoCube's arrive ready to use right out of the box, complete with everything needed to operate them.

This addition comes as part of Magnatag's dedication to adapt to customer feedback, with many customers suggesting a new variation on the traditional whiteboard surface would be useful in the lean manufacturing process that has become standard in a number of industries.

"We used to put data on the walls but that wasn't working. Now we post health and safety, productivity, quality, qualifications, and Kaizen information on RotoCubes right in the work cells," explains one RotoCube adopter from the El Paso area.

Even members of the Magnatag team attribute the recent success of the RotoCube to its flexibility with the lean management process, explained Krapf:

"Our customers say they like the RotoCube® concept of "No Walls, No Problem", and since some of our customers have metrics with 5 components like SQDIP's, 5 Why, 5S, and 5 days of the week, we really wanted to make sure they could cover all points of interest on a single unit. We paid close attention to customer feedback and everyone is really pleased with the result!"

For more information about the RotoCube visit the Magnatag website.

Magnatag® Visible Systems, designs, manufactures and direct-markets over 2,300 magnetic printed steel job-task oriented and all-purpose ready-to-use whiteboard kits including calendars, maps, WhiteWalls®, RotoCubes®, custom printed whiteboards, a full line of magnets and accessories and other information display systems for manufacturers, hospitals, schools, business, organizations and government. A veteran-owned family company founded in 1967. See their website at www.magnatag.com or call 800-624-4154
More from Electrical Equipment & Systems