Miscellaneous Cleaning Equipment
Rotary Vent Cleaner features 99.97% efficient HEPA filter.
Press Release Summary: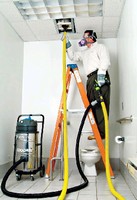 Equipped with 1.6 hp motor and 3.2 gal filter collection bag, portable VentVac allows user to simultaneously power brush and vacuum dust and debris from vents and ducts. Available as complete package with EV-30H Commercial Dry HEPA vacuum, system combines 2 in. vacuum hose with internal flexible shaft, custom-fitted with sealed bearing centering collar on either end. Flow Brush scours vent walls while propelling debris behind it, directly into vacuum inlet.
---
Original Press Release:

Goodway's New VentVac



Rotary Vent Cleaner

Goodway's new VentVac is a great alternative to traditional duct cleaning systems when it comes to small diameter ducts and vents. This inexpensive package is extremely portable and allows the user to simultaneously power brush, and vacuum dust and debris. Initially designed for 3" and 4" exhaust vent cleaning in hotel bathrooms, the VentVac can also be used for a wide variety of other applications such as dryer vent cleaning. It is available as a package complete with an EV-30H Commercial Dry HEPA vacuum. The VentVac combines a 2" vacuum hose with an internal Goodway flexible shaft custom fitted with a sealed bearing centering collar on either end. The uniquely shaped Flow Brush scours the vent wall while propelling debris behind it - directly into the vacuum inlet. The result is super clean vent lines with extracted debris stored safely in your HEPA vacuum. The drive mechanism is adequately powered by a standard battery powered drill of 12 V or more (not included). This allows for an extremely cost effective solution to cleaning small diameter ducts and vents.

Features & Benefits
Heavy Duty PVC Vacuum Power Brush - Will hold up to rigorous use
Galvanized spring steel flexible shaft - Unmatched performance and durability
Simultaneous EV-30H Vacuum - Removes debris
HEPA filter 99.97% efficient at 0.3 microns - Superior filtration
Large HEPA filter - Long life
Heavy-duty motor - Strong suction
3.2 gallon paper filter collection bag - Large capacity
Plastic bag tank liner - Safe disposal of debris

Specifications
Motor Power: 1.6 HP
Input Power: 10 amps, 115 V, 50/60 Hz AC
Power Supply Cord: 27', 16-3
Static Water Lift: 90"
Air Displacement: 115 CFM
Dimensions: 13" diameter tank
38" high overall
Weight: 36 lbs
Dry Capacity: 3.2 gallons
HEPA Filter: Certified 99.97% efficient @ 0.3 micros

Learn more...

About Goodway Technologies Corporation
Goodway Technologies Corporation was founded over 40 years ago. Since its earliest days, the company has built a reputation for manufacturing the highest quality cleaning systems in the world. Our research and development department has worked with our customer's to bring the latest advancements in our products to market. In keeping with our customer's needs, the RVB-100 was developed.

Website: www.goodway.com

Goodway Technologies Corporation 420 West Avenue Stamford, CT 06902 ph: 203-359-4708 fax: 203-359-9601

More from Explosives, Armaments, and Weaponry