Rotary Unions have extended-service, multi-passage design.
Press Release Summary: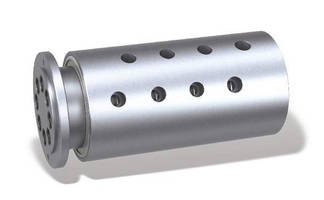 Used for power, fluid, and data transfer, multi-passage rotary unions are designed with DuraSeal™ elastomeric sealing materials and meet needs of industrial/commercial applications requiring rotary sealing device with 2–12 passages. Products provide seal sets between stationary connections and rotating equipment, while independent passages permit flow of same or different media into and out of rotating equipment. In most cases, each passage requires isolation from others.
---
Original Press Release:

Kadant Johnson Announces Global Launch of New Multi-Passage Rotary Union Product Line



Three Rivers, Mich. - Kadant Johnson Inc., a subsidiary of Kadant Inc. (NYSE:KAI), announced the global launch of a new multi-passage rotary union line for power, fluid, and data transfer. The new product line features standard configurations designed to meet the needs of the most common industrial and commercial applications requiring a rotary sealing device with 2 to 12 passages.



"This new multi-passage rotary union line compliments our custom-engineered offerings to provide our customers with the best solution possible for their application and needs," noted Greg Wedel, president of Kadant Johnson Inc. "Whether it's an off-the-shelf union or a custom design, we offer our customers the options, reliability, and performance they need to solve their manufacturing challenges."



Multi-passage rotary unions provide sets of seals between stationary connections and rotating equipment, such as a drum, index table, clutch, or spindle. The multiple, independent passages permit the flow of the same or different media into and out of rotating equipment. In most cases, each passage requires isolation from other passages especially when the different media cannot mix or they operate at different pressures.



According to Matt Beach, director of research and product development at Kadant Johnson, "The key to reliability is dependable sealing technology. And the right sealing technology is dependent on the media and operating conditions, such as temperature, pressure, and speed. Kadant Johnson's multi-passage rotary union line is designed with DuraSeal™ high-performance elastomeric sealing materials to ensure reliability and long service life for the toughest applications."



Kadant Johnson Inc., based in Three Rivers, Michigan, is a leading provider of rotary joints, precision unions, and fluid handling systems to process industries, where they optimize the transfer of power, fluid, and data in rotary sealing applications.



Kadant Inc. is a global supplier of high-value, critical components and engineered systems used in process industries worldwide. The Company's products, technologies, and services play an integral role in enhancing process efficiency, optimizing energy utilization, and maximizing productivity in resource-intensive industries. Kadant is based in Westford, Massachusetts, with revenues of $390 million in fiscal 2015 and 2,000 employees in 18 countries worldwide. For more information, visit www.kadant.com.



Danielle Rohrer

Director of Marketing

Kadant Inc.

805 Wood Street

Three Rivers, MI 49093 USA

Tel: +1-269-273-3076 ext. 2261

Email: danielle.rohrer@kadant.com

Web: www.kadant.com

More from Fluid & Gas Flow Equipment