Rotary Tower Stretch Wrapper features floor-mounted design.
Press Release Summary: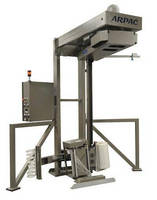 ELECTRO-WRAP SERIES® automatic rotary tower stretch wrapper requires no pneumatic hookup and can be loaded with fork truck or pallet jack. Activated with remote lanyard, it features film carriage that revolves around stationary pallet load and, once cycle is completed, system automatically clamps, cuts, and wipes film to pallet. Sensor stops rotating film carriage arm for safety, while swing arm drive system has slewing bearing design that requires minimal maintenance.
---
Original Press Release:

ELECTRO-WRAP SERIES® Floor Mounted Automatic Rotary Tower Stretch Wrapper



Schiller Park, IL - The ELECTRO-WRAP SERIES® automatic rotary tower stretch wrapper requires no pneumatic hookup. This reduces the total energy costs for the machine. It also reduces installation cost as no special pneumatic plumbing or air compressor is required. The machine combines automation and floor space optimization making it great for when you need to stretch wrap unstable pallet loads that are either too light or too heavy to rotate on a turntable wrapper. It wraps faster than a conventional turnable system and gives you flexibility to load the wrap zone with either a fork truck or pallet jack.

The material handler sets the pallet on the floor in front of the wrapper and activates the wrapping cycles from a remote lanyard. The ELECTO-WRAP SERIES® completes the job with the film carriage revolving around the stationary pallet load. Upon completion of the cycle, the system automatically clamps, cuts and wipes the film to the pallet. A safety sensor is included for instant stopping of the rotating film carriage arm. A robust swing arm drive system uses a slewing bearing design that ensures long life with minimal maintenance.

The ELECTO-WRAP SERIES® is manufactured in the USA in accordance with ARPAC's Lean Manufacturing Process (AM2) to ensure quality, performance and value. The wrapper is sold and serviced through our nationwide distributor network.

About the ARPAC Group

ARPAC is your one stop shop for secondary packaging solutions. We manufacture shrink bundlers, multipackers, horizontal shrink wrappers, tray/case/box erectors, corrugated tray loaders and case packers and pallet stretch wrappers. All ARPAC machinery is manufactured, serviced and supported in the USA.


More from Waste Management & Waste Handling Equipment