Rotary Torque Measurement System uses digital telemetry technology.
Press Release Summary: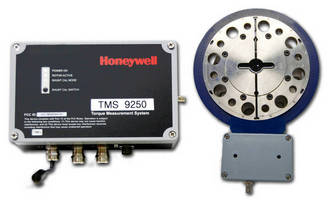 Featuring non-contact design, TMS 9250 eliminates mechanical interference by measuring torque wirelessly. Modular design enables it to be adapted or customized to fit into different types of test stands to meet specific application requirements. Quick-attach wiring connectors accelerate installation, while parameters readily accessible via software system facilitate setup and adjustments. Mechanical configurations include DIN, SAE, integral coupling, shaft-to-shaft, and custom mounting.
---
Original Press Release:

Honeywell Test & Measurement Introduces New Torque Measurement System with Modern Digital Telemetry Technology



Today's testing requirements demand higher frequency response, simplified installation and reduced down time associated with mechanical wear. The need for a more accurate and versatile non-contact rotary torque sensor has evolved the industry from technology defined by slip rings and bearings into the digital age. Leading the way is Honeywell's new TMS 9250 Torque Measurement System, which offers true torque measurements
with a non-contact, digital telemetry design.

MINNEAPOLIS - Honeywell (NYSE:HON) one of the world's leading suppliers of test and measurement sensor solutions, has introduced the new TMS 9250 Torque Measurement System. Utilizing non-contact digital telemetry technology, the system is built to deliver unprecedented precision and performance. The TMS 9250 is designed to meet evolving industry needs for wireless torque measurement systems, offering improved accuracy in torque measurement data and performance; flexible configurations; simplified installation, setup and operation; and long-term reliability.

The need for precision torque measurement spans industries and applications as monitoring torque is critical in the design and/or testing of axles, drive trains, gear drives, gas and electric motors, transmissions, pumps, propulsion systems, and gas and steam turbines. End users and manufacturers of dynamometers and test stands can now digitally measure torque with improved results and the desired customization features to meet their ever-changing needs.

The TMS 9250 offers new options for mounting, installing, sensing, controlling, actuating, collecting data and reporting data. The system is fast, accurate, flexible, simple to install, and requires less maintenance. Completely digital, its wireless design enables higher integrity of the torque data capture through higher resolution, higher sensitivity, faster response, and no mechanical interferences. The result is a more accurate indication of the actual torque being experienced, plus an increase in reliability.

True torque measurement. Slip ring and rotary transformers are less reliable methods to measure true torque and offer only limited transmission speeds and lower resolution data. Mechanical in nature, these components create friction and are subject to wear. Honeywell's TMS 9250 non-contact digital telemetry design eliminates mechanical interference by measuring torque wirelessly. As a result, users realize more accurate data measurement with higher resolution and faster, better performance.

Easy configuration. Honeywell's modular design can easily be adapted or customized to fit into many different types of test stands to meet specific test application requirements. Multiple mechanical configurations are available, including DIN, SAE, integral coupling, shaft-to-shaft, and custom mounting.

Simple installation, setup and operation. The TMS 9250 is light, compact and has quick-attach wiring connectors for fast installation. Easy setup parameters are readily accessible through the software system, enabling test parameter adjustments to be made quickly and remotely if necessary. The software accommodates multiple calibrations on the same sensor, allowing a single sensor to be reconfigured in a variety of characterization arrangements, "on the fly" so that the test is not interrupted.

Proven reliability. Because Honeywell's TMS 9250 is a non-contact system for torque measurement (i.e., no friction), its design also results in fewer sensor and instrumentation wiring issues, leading to lower maintenance needs.

FCC and CE certified, EMC compliant. The TMS 9250 complies with all regulatory standards for safe RF emission standards and will not cause RF interference with other equipment.

Get more information on this product - https://measurementsensors.honeywell.com/news/newproducts/Pages/TMS9250TorqueMeasurement.aspx

Learn more about Honeywell Sensing and Control - Sensors for Test & Measurement - https://measurementsensors.honeywell.com/Pages/default.aspx

Honeywell International (http://www.honeywell.com) is a Fortune 100 diversified technology and manufacturing leader, serving customers worldwide with aerospace products and services; control technologies for buildings, homes and industry; automotive products; turbochargers; and specialty materials. Based in Morris Township, N.J., Honeywell's shares are traded on the New York, London, and Chicago Stock Exchanges. For more news and information on Honeywell, please visit www.honeywellnow.com.


More from Packaging Products & Equipment