Miscellaneous Cleaning Equipment
Rotary Tank Cleaner is self-cleaning and self-lubricating.
Press Release Summary: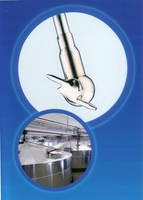 Compact Orbitor rotary spray ball can fit through small, restricted access flanges, and suits cleaning-in-place applications (CIP) in food, brewing, beverage, dairy, chemical, and pharmaceutical industries. It can handle tank sizes from 8-16 m in radius, as well as larger tanks of up to 32 m dia. Available in 2, 4, or 8 nozzle configurations, unit operates with pressures of 3-12 Bar and maximum temperature of 95°C, and provides 360° and 180° down and up wash patterns.
---
Original Press Release:

Rotary Tank Cleaner Is All-Round Polished Performer



A compact and versatile tank cleaning rotary spray ball which offers users significant advantages over traditional tank cleaning spray balls, is the latest addition to the range of products supplied by nozzle specialists BETE Ltd. The innovative Orbitor rotary spray ball is a patented design which combines high performance cleaning efficiency with extended operating life and reduced life cycle costs.

The self-cleaning and media lubricated Orbitor is ideally suited to cleaning-in-place applications (CIP) in the food, brewing, beverage, dairy, chemical and pharmaceutical industries. The options available cover tank sizes from 8 metres up to 16 metres in radius, although the Orbitor can be used to clean larger tanks of up to 32 metres in diameter, or where the product is difficult to reach.

Most importantly, unlike other designs of spray balls the Oribitor has an absolute minimum number of moving parts and can be completely stripped for maintenance in less than 15 minutes. This optimum serviceability eliminates the time-consuming maintenance overhauls associated with other types of spray balls and maximises operating life.

As a result of its self-cleaning, self-lubricating characteristics the possibility of process contamination is eliminated, while its compact design enables fitting through small, restricted access flanges. Depending on the intensity of the cleansing requirement it is available in 2, 4 or 8 nozzle configuration and provides a choice of effective cleaning patterns, including 360° and 180° down and up wash patterns.
Standard connections means it can be easily retrofitted to existing systems and pipework. Competitively priced, the Orbitor is designed to operate with pressures between 3 and 12 Bar and a maximum working temperature of 95°C.

Typical applications include CIP duties for process vessels and storage silos in beverage industries, bright beer tanks, coppers and maltings in the brewing industry, milk storage, spray driers, process vessels and silos in food and dairy industries and cleaning coatings and paints from vessels and silos in the finishing, surface treatment industries.

Further details are available from:
Beesh Zytynski,
BETE Ltd,
PO Box 2748,
Lewes, East Sussex,
BN8 4BA, UK
Tel:+44 (0)1273 400 092
Fax:+44 (0) 1273 401 220
Beesh@beteuk.com
www.beteuk.com

More from Adhesives & Sealants