Rotary Table Horizontal Boring Mill aids large parts production.
Press Release Summary: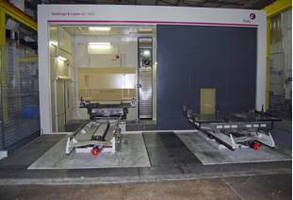 Designed for multi-axis contour milling, precision boring, drilling, and tapping, MC 1600 meets automated large-part production requirements for oil/gas and wind energy components up to 10 ft long and 7,000 lb. Modular design features dual 63.0 x 63.0 in. pallet shuttle system, one-piece cast iron column base and bed, and built-in 360,000 position contouring rotary table with programmable mechanical clamp and 55,000 lb part handing capacity. Feed thrust in all 3 linear axes is 6,744 lb.
---
Original Press Release:
Giddings & Lewis Horizontal Boring Mill from Fives Fuels Energy Sector Business Expansion for Milwaukee Machine Works
New large-capacity MC 1600 meets shop's tight-tolerance, large-part requirements for oil/gas and wind energy components up to 10 ft (3 m) long and 7000 lbs (3175 kg) 

FOND DU LAC, Wi – Milwaukee Machine Works, manufacturer of large-scale, critical-tolerance machined parts and assemblies, is increasing part capacity and expanding its energy sector business with a dual-pallet Giddings & Lewis MC 1600 horizontal boring mill (HBM) from Fives. The rotary table HBM, designed for multi-axis contour milling, precision boring, drilling and tapping, was installed last month at the company's 80,000 sq ft, climate controlled facility. It will produce a variety of large parts, some as long as 10 ft (3 m) and weighing as much as 7000 lbs (3175 kg), including wind turbine gearbox housings and fluid end manifolds for the oil/gas industry.

The Fives Giddings & Lewis MC Series brings machining center capabilities to horizontal boring mills for automated large-part production. "Our primary business is large parts, some with more than 300 machined features, so the new boring mill not only expands our part capacity, it also boosts our efficiency with pallet changing and machining center capabilities," said Mike Manna, General Manager, Milwaukee Machine Works. "Meeting tight tolerances is a concern as well. We typically hold bore-to-bore centerline, perpendicularity and parallel tolerances of 0.001" to 0.002" (0.0254 mm to 0.0508 mm) over 20" to 30" (0.508 m to 0.762 m) and we expect this machine to hold this over the entire range of travel, even as our parts get larger. The extra capacity will allow us to expand our business and the machine's advanced features allow us to increase our efficiency."

The MC 1600's dual 63.0" x 63.0" (1600 x 1600 mm) pallet shuttle system ensures high spindle utilization, and robust one-piece cast iron column base and bed provide a rigid machining platform to handle heavy cuts in hard materials. The column is X-braced to enhance structural integrity, resist deflection and minimize vibration. Feed thrust in all three linear axes is 6744 pounds (30,000 N). A built-in 360,000 position contouring rotary table with programmable mechanical clamp handles parts to 55,000 pounds (25,000 kg), allowing precision 4-axis machining on a variety of part geometries. Modular design allowed MMW to custom configure the machine with a four-speed 3500 rpm/56 kW (76 hp) spindle and 120-tool magazine. The oil lubrication in air-through spindle feature automatically lubes the rotary coupling when air through the spindle is used for extended machining periods.

The MC 1600 includes the Giddings & Lewis Adaptive Control and Spindle Load monitoring software packages to help reduce tool breakage and/or spindle damage in high-feed milling operations on tough material, such as the cast iron and 4340 steel often machined at MMW. The easy-to-use Adaptive Control feature adjusts the feedrate between programmed minimum and maximum values. It compensates for changes in cutting conditions, such as depth of cut and material hardness, to maintain the desired cutting horsepower. Adaptive Control can also be used to enhance the machine's productivity by allowing more aggressive feeds to be programmed.

Spindle Load monitoring software provides a simple operator interface and application for the operator to set acceptance values for spindle load trip points to be used in subsequent cutting operations. The operator/programmer uses M-codes to activate and deactivate load monitoring. The monitor uses either the Fanuc tool-retract feature, or "feed hold" when the spindle load trip point is exceeded. According to Manna, MMW went through a substantial evaluation process in selecting the MC 1600, comparing it against six other machines on a matrix of more than 20 features and benefits. "When compared to the other machines on our list, we found the MC 1600 more technologically advanced. And, that's important because our wind gearbox customers are continually tightening tolerances as they look to extend the life of parts," said Manna. "We also have a G&L MC 1250, on which we run our most critical tolerance parts, and it has an excellent performance history. The features and design of the two machines are very similar, so our operators will have a very short learning curve."

Fives is the worldwide leader in large horizontal boring mills with a wide range of Giddings & Lewis models, sizes, spindle capabilities and options for the machines. For additional information, see: www.fivesmsi.com

About Milwaukee Machine Works
Milwaukee Machine Works (MMW) is an ISO 9001:2008 certified machine shop uniquely positioned as the premiere North American manufacturer for large-scale, critical-tolerance machined parts and assemblies.

MMW began in 1948 as National Machine, a specialized provider for the automobile racing industry, and was acquired by the Industrial Manufacturing Company in 2000. A wide-variety of OEMs in the Agricultural, Oil & Gas, Off-Highway (Construction/Mining), and Wind-Energy industries turn to Milwaukee Machine Works for their contract machine shop needs and value-added assembly solutions. Gearbox housings, planetary carriers, axles, and power train components are just a few of the products crafted, verified, and tested at MMW. A state-of-the-art Leitz CMM (2M x 3M x 4.5M), accurate to 6 microns over the volumetric measuring area, ensures the shop is meeting tight tolerances on large components required by its customers.

About Fives
As an industrial engineering group, Fives designs and supplies machines, process equipment and production lines for the world's largest industrial groups in various sectors. Located in over 30 countries and with nearly 8,000 employees, Fives is known for its technological expertise and ability to execute large-scale international projects.

Fives' markets are without boundaries and the Group executes projects everywhere in the world to the highest global standards. Its pioneering and enterprising spirit enables Fives to design ultimate solutions that anticipate its clients' needs in terms of profitability, safety and environmental standards.

Within Fives, the Metal Cutting & Composites businesses design and supply machine tools and complete manufacturing solutions. With a strong foundation based upon renowned brands such as Cincinnati, Cinetic, Giddings & Lewis, Forest-Liné, Liné Machines and Rouchaud, Fives is recognized as the preeminent provider of outstanding manufacturing solutions which are at the heart of its customers' performance.

Key industrial markets served include aerospace, automotive and truck, heavy equipment, oil and gas, rail, wind energy and general machining. With manufacturing and support operations strategically located worldwide, Fives and its Metal Cutting & Composites businesses offer comprehensive lines of equipment and technologies including automated assembly, laser welding and cutting, turning, milling, automotive powertrain production, composites processing, software and the associated support and services: maintenance, spares, retrofit, overhauling and upgrading.

Press contact:
Linda Kieckhafer
+1 920.906.2328
linda.kieckhafer@fivesgroup.com
More from Fasteners & Hardware