Rotary Switches can be washed and mounted on PCB.
Press Release Summary: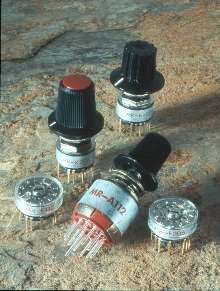 MR Series miniature low-profile rotaries are available with single, double and 4 poles. All models have adjustable stopper settings, break-before-make contacts, molded-in and epoxy sealed terminals, and interior housing seal for washability. Positive detent mechanism provides crisp feel and audible feedback. Shaft-actuated models have rubber washer and double-flatted bushing to create front panel seal for applications requiring splash-proofing.
---
Original Press Release:

New Washable Rotary Switches Designed For PCB Mounting


NKK Switches Introduces MR Series of Miniature Low-profile Rotaries

SCOTTSDALE, Ariz. (Feb. 18, 2002) - NKK Switches, the leading designer and producer of electromechanical switches throughout the industrialized world, announces the MR series of half-inch diameter, washable, PCB mount rotary switches, available through the company's extensive network of authorized distributors.

The miniature, logic level MR series of process compatible rotary switches is available in single, double and four poles. All models feature adjustable stopper settings, continuous rotation and break-before-make (nonshorting) contact mechanisms. Self- cleaning contact mechanisms ensure high contact reliability. Indexing is 30 deg and the positive detent mechanism provides crisp feel and audible feedback.

Preventing entry of flux and other contaminants, MR switches feature molded-in and epoxy sealed terminals. The switches have an interior housing seal for washability.

While the screwdriver model has a polyamide cover for added exterior protection, the shaft-actuated models have an exterior rubber washer and double-flatted bushing, which creates a front panel seal, for applications requiring splash-proof features. The process compatible MR series of washable rotaries allow for time and cost savings.

Suitable for applications including industrial/commercial, communication, computers and peripherals, the MR series' low profile bodies meet the space limitations required for PCB mounting. The screwdriver model has a behind panel depth of merely 0.323-inch. Shaft-actuated models can be specified with behind panel depth of 0.398-inch. Accessory options include designer knobs for shaft-actuated models with various tipped colors, as well as support brackets for PCB mounting when the use of a bushing mount to a panel is not required.

The MR series PCB mountable switches have electrical ratings of 250mA @ 125V AC to 0.4VA @ 28 V AC/DC maximum. Mechanical life for all models is 30,000 operations minimum. Electrical life is 10,000 operations minimum. Range of operating torque is 250 - 750 grams-cm for the MR series shaft actuated device and 50 - 250 nwNH grams-cm for the low profile shaft or screwdriver actuated models. NKK Switches' MR rotary switches have an operating temperature range of -10degC through +70degC (+14 degF through +158 degF). Humidity range is 90 - 95% for 96 hours @ 40degC (104degF). Vibration tested to 10 - 55Hz with peak-to-peak amplitude of 1.5mm traversing the frequency range and returning in one minute, three right-angled directions for two hours. All models can withstand shock of 50g acceleration (tested in three right-angled directions with three shocks in each direction). Soldering time and temperature is 3 seconds @ 350degC or 5 seconds @ 270degC.

A leading designer and producer of electromechanical switches, NKK Switches offers one of the industry's most extensive selections of illuminated, process sealed, miniature, specialty and surface mount switches. The company manufacturers more than three million different toggle, rocker, pushbutton, slide, rotary, DIP rotary, keypad and keylock switches. NKK Switches maintains a complete network of qualified representatives and distributors throughout the United States, Canada, Central and South America, Europe and Asia.


More from Agricultural & Farming Products