Rotary Switch can be integrated directly on flex circuit.
Press Release Summary: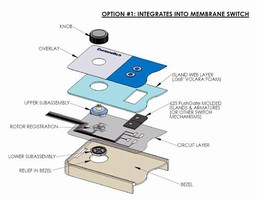 Offering pushbutton selector function, thiNcoder-PB switch can be incorporated directly into layers of membrane switch, eliminating secondary assembly steps, and enabling integrated panel that is environmentally sealed by eliminating through-holes. Non-invasive rotary switch can also be utilized as discrete switch that snaps directly into plastic housing, making product suitable for any type of switch panel.
---
Original Press Release:

InPlay Technologies Launches New Duraswitch Pushbutton-thiNcoder Combination Switch



PHOENIX, Aug. 16 / - InPlay Technologies (NASDAQ:NPLA) announced today that Duraswitch® has added a pushbutton encoder to its thiNcoder® rotary switch product line. The thiNcoder-PB offers a pushbutton selector function in one simple switch that is easily incorporated into a membrane switch panel or utilized as a discrete switch.

"Like all of the options in our thiNcoder line, integration is a key benefit of the new thiNcoder-PB. thiNcoder is the only rotary switch technology that can be integrated directly on flex circuit," stated Tim Kuhn vice president, business development, InPlay Technologies.

Typical encoders are attached to the housing in a secondary assembly process. thiNcoder is a non-invasive rotary switch, incorporated directly into the layers of a membrane switch. thiNcoder saves time and component costs by eliminating secondary assembly steps. thiNcoder enables an integrated panel that is environmentally sealed by eliminating through-holes.

Not just for membrane switch integration, the new thiNcoder-PB can be designed as a discrete switch so that it snaps directly into a plastic housing making it ideal for any type of switch panel.

"The thiNcoder-PB combination switch opens significant new opportunities for us and our licensees. Customers in some of the top markets for the Duraswitch technologies such as medical devices and industrial controls see this type of switch as a core component in their rotary switch product line," Kuhn continued.

Duraswitch's patented electronic switch technologies include PushGate®, a thin, durable pushbutton technology with crisp tactile feedback; thiNcoder®, a flex circuit mounted rotary switch that enables low-cost integration of rotary and pushbutton switches, and MagnaMouse(TM), a flat-panel cursor control. Duraswitch technologies offer multiple customization options, giving switch manufacturers and OEMs advantages over other types of switches including: ability to integrate multiple switch types in flat-panel and slim-profile designs; high durability and reliability; sealability against harsh environments; unique illumination capabilities; and an ergonomic, user-friendly interface.

Duraswitch web site address: www.duraswitch.com.

About InPlay Technologies

InPlay Technologies markets and licenses proprietary emerging technologies through two divisions: FinePoint and Duraswitch. FinePoint Innovations is a developer of pen computing products for tablet PCs and computer peripherals. FinePoint's digital solution is the computing pen and digitizer for a major computer OEM's award-winning line of convertible notebooks. The company was founded to commercialize its internally developed Duraswitch electronic switch technologies and has executed license agreements with switch manufacturers and OEMs worldwide. Today, Duraswitch patented technologies are in the controls of a wide range of commercial and industrial applications. InPlay Technologies is focused on further commercialization of these technologies and leveraging its licensing model with additional, innovative technologies. Visit www.inplaytechnologies.com for more information.

Source: InPlay Technologies

CONTACT:
Heather Beshears,
Vice President, Corporate Communications of InPlay Technologies, Inc.,
+1-480-586-3357,
Heather@InPlayTechnologies.com

Web site: www.inplaytechnologies.com/
http://www.duraswitch.com/

More from Test & Measurement