Rotary Spray Head maximizes cleaning efficiency.
Press Release Summary: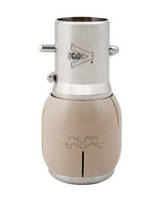 Starting to rotate at pressures of less than 0.1 bar, Toftejorg SaniMidget SB ensures dynamic and effective distribution of rinse water to inner tank surfaces. As head rotates, fans produce impact on tank wall and well-distributed falling film without cascading flow that can be experienced with static spray balls. Made of non-reactive and hygienic materials, head is self-draining and self-cleaning both inside and out. Flushed bearings and crevice-free design optimize cleaning procedures.
---
Original Press Release:

The Economic and Sustainable Choice



Efficient and cost-effective cleaning

When higher cleaning efficiency is required, it is easy to upgrade from static spray balls to the Alfa Laval Toftejorg SaniMidget SB Rotary Spray Head technology. Simply unclip the static spray ball and replace it with a new clip-on rotary spray head, which uses a spray pattern ensuring dynamic and effective distribution of rinse water to the inner tank surfaces in delivering the best cleaning results.



As the spray head rotates, its fans produce an impact on the tank wall and a well distributed falling film without the cascading flow that can be experienced with static spray balls. The result is better cleaning performance than a static spray ball.



Its perfectly flushed bearings and crevice-free design optimize cleaning procedures. Self-draining and self-cleaning, both inside and out, its spray head complies with current Good Manufacturing Practices and delivers up to 70% savings on water, chemicals and energy.



Performance reliability and long service life

Designed with minimal pressure loss, the Alfa Laval Toftejorg SaniMidget SB Rotary Spray Head starts to rotate at pressures of less than 0.1 bar.  It is made of safe, non-reactive and hygienic materials to ensuring product quality and they hold the 3A and EHEDG certifications. Rotary spray head technology has proven successful in providing reliable and repeatable cleaning performance and a long service life.



About Alfa Laval

Alfa Laval is a leading global provider of specialized products and engineering solutions based on its key technologies of heat transfer, separation and fluid handling.



The company's equipment, systems and services are dedicated to assisting customers in optimizing the performance of their processes. The solutions help them to heat, cool, separate and transport products in industries that produce food and beverages, chemicals and petrochemicals, pharmaceuticals, starch, sugar and ethanol.



Alfa Laval's products are also used in power plants, aboard ships, oil and gas exploration, in the mechanical engineering industry, in the mining industry and for wastewater treatment, as well as for comfort climate and refrigeration applications.



Alfa Laval's worldwide organization works closely with customers in nearly 100 countries to help them stay ahead in the global arena.



Alfa Laval is listed on Nasdaq OMX, and, in 2014, posted annual sales of about SEK 35.1 billion (approx. 3.85 billion Euros). The company has about 18 000 employees.

www.alfalaval.com





Related