Rotary Spray Balls promote effective tank cleaning.
Press Release Summary: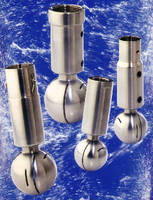 Replacing static spray balls to enhance efficiency, rotary spray balls (RSB) ensure max cleaning radius, depending on pressure/flow, from 1.5-2.43 m. They come in RSB45 and RSB65 sizes and are suited for smaller to medium-sized tanks with 1.5-5 m diameters. Along with optimized water/chemical consumption, self-cleaning and self-lubricating products feature double ball bearing arrangement and have working pressure of 1-3 bar and max pressure of 5.2 bar.
---
Original Press Release:

Spray Balls for Cost-Effective Tank Cleaning



A new range of rotary spray balls (RSB) which are ideal for replacing static spray balls to ensure more efficient cleaning are now available through nozzle specialists BETE Ltd. Available in two sizes RSB45 and RSB65, they ensure a maximum cleaning radius (depending on pressure / flow) from 1.5 metres up to 2.43 metres, so they are suitable for smaller to medium sized tanks from 1.5m up to 5m diameter.

The key features and benefits include, optimum consumption of water and chemicals so operating costs are reduced, a double ball bearing arrangement to ensure reduced lifecycle costs and they are self-cleaning and self-lubricating which helps to eliminate the potential for process contamination. There are also versions which feature a targeted cleaning 'slot' which helps to direct flow to target specific cleaning spots.

They can be supplied with 360°, 300° up and 180° down spray patterns and have a working pressure of between 1 to 3 bar, a maximum recommended pressure of up to 5.2 bar and a maximum working temperature of 95°C. They are available with a choice of connections to enable easy retrofit to existing systems. For type RSB45 these are; ½" BSP, ¾" BSP, clip on 1" tube, weld on 1" tube, clip on NW 25 tube and DIN. For the RSB65; 1¼" BSP, 1½" BSP, clip on 1½" tube, weld on 1½" tube, clip on NW 40 tube, weld on NW40 tube, DIN.

BETE rotary spray balls are suitable for a wide range of tank cleaning applications on fillings lines or wherever process vessels require cost-effective cleaning.

This will be in industries such as brewing, food and dairy, beverage and also chemicals, coatings and paints.

Further details are available from: Beesh Zytynski, BETE Ltd,
PO Box 2748, Lewes, East Sussex, BN8 4BA, UK
Tel:+44 (0)1273 400 092 Fax:+44 (0) 1273 401 220 Beesh@beteuk.com www.beteuk.com

More from Electronic Components & Devices