Rotary Shelf Storage Systems use lazy-Susan design.
Press Release Summary: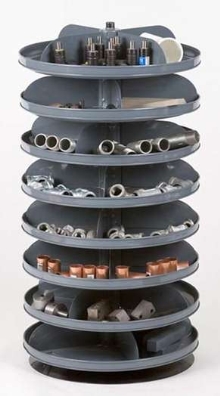 Offered in 3 models, Rotabin® systems consist of circular revolving steel shelves, dividable into triangular bins, mounted in stacks on vertical stem or axle. Space-saving solutions facilitate viewing and picking of parts from one spot. Series 1300, 1200, and 1110 offer up to eight 34 in. dia shelves, ten 28 in. dia shelves, and ten 17 in. dia shelves, respectively. Series 1300 has 5 permanent compartments per shelf, and each shelf will hold up to 500 lb.
---
Original Press Release:
Durham-Built Frick Gallagher Rotabin® Storage Systems Introduced
Shipment has begun on the first three models of Rotabin® rotary shelf storage systems built by Durham. Rotabins® are one of three product lines acquired from Frick Gallagher by The Durham Manufacturing Company, Durham, CT 06422 and are being marketed under the Durham/Frick Gallagher brand. Rotabins® consist of a series of circular revolving steel shelves, dividable into triangular bins, mounted in stacks on a vertical stem or axle which operate on the lazy- Susan design. They have proven most effective in saving space over conventional rectangular shelving. One person is capable of picking more parts, more quickly, while standing in one spot. Parts are easier to see and reach. The first models to be introduced are the Series 1300 with up to eight 34-inch diameter shelves, the Series 1200 with up to ten 28-inch diameter shelves and the Series 1110 with up to ten 17-inch diameter shelves. The Series 1300 has 5 permanent compartments per shelf with the optional use of adjustable dividers which permit the creation of up to 15 compartments. Each shelf will hold up to 500 lbs .Optional adjustable dividers available with the Series 1200 allow the formation of up to 24 compartments on each shelf, again with 500 lbs. per shelf capacity. The Series 1100 offers the ability to form up to 16 compartments and can accommodate up to 60 lbs. per shelf. A number of additional optional accessories are available to further enhance the versatility of all three series. These include color coded pans and small parts carriers, caster mounted mobile carts and bases for forklift applications to allow convenient movement of Rotabins®, and storage cabinets for the enclosure of Rotabins® where security is a factor. For details; write, phone, fax or email: Rotabin® Storage Systems
The Durham Manufacturing Company
201 Main Street, P.O. Box 230
Durham, CT 06422
Toll Free Phone: 800-243-3774
Toll Free Fax: 800-782-5499
Email: [email protected] Website: www.durhammfg.com