Rotary Press is equipped with peel away liners.
Press Release Summary: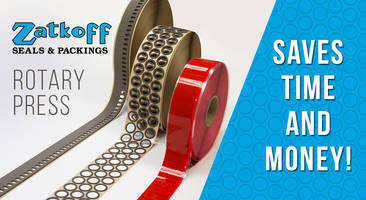 Capable of performing several separate functions, Rotary Press can execute multi-layer lamination. Unit helps to cut the materials in two directions. Product is suitable for adhesives and plastic applications and can remove scraps.
---
Original Press Release:
Our New Rotary Press is Good News for Your Custom Solutions
In the past, parts that required multiple processes needed to be loaded on several machines, one step at a time in order to produce the finished product. This added time and money to our customer's bottom line.
While we have always been good at producing quality parts, here at Zatkoff Seals & Packings, it's never enough for us to settle for the status quo for our customers.
We wanted a production process that would allow us to offer faster and even more precision solutions. That's where the Rotary Press comes in.
The beauty of the Rotary Press is that it allows us to perform several separate functions to create your custom parts in one run! The result is a faster turn around, more versatility in the parts we can create, and with individual controls at each die station, the kind of precision that opens up a whole new world in custom solutions!
The Rotary Press can perform multi-layer lamination, peel away liners, add adhesive, and marry materials quickly and easily in one run. The press also removes all scrap, and either drops or rolls it for easy disposal. It is capable of multiple in-line cuts and precision placement makes the resulting parts perfect for customers who rely on the strict requirements of robotic placement.
Since all of this is performed in one run, the time, energy and man-power it takes to produce your parts is greatly reduced, thus reducing your cost, as well.
Sometimes, when you need a product, you need it yesterday! This press allows us to produce large quantities at speeds we couldn't have dreamed of before, with an increase in quality. The multiple function, single run nature of this machine is a god-send to our customers who need products now!
The Rotary Press is also able to cut smaller pieces from materials than ever before, as the press can cut from two directions at once, granting us even more flexibility in finding your solutions.
It also allows us to use materials that we could not before. As a result, we have even more options to draw from in giving our customers what they need.
Another area of difficulty that the Rotary Press makes easy is with the zoning of adhesives, plastics and other materials. The precision required to create perfect zones was daunting and required multiple processes to complete. With the rotary press it's just a matter of setting up the machine and letting it perform it's magic. The result is beautifully zoned parts, easily and readily available to meet your needs.
At Zatkoff Seals & Packings, our customer's needs are always at the forefront of our thinking. Staying abreast of the newest and most efficient equipment that will allow us to create your best custom solutions is just one of the ways that we continue our commitment to giving our customers nothing but the best.
If you have a challenging parts need, give us a call and let us create a solution custom made for you.
Contact:
Zatkoff Seals & Packings
23230 Industrial Park
Farmington Hills, MI 48335-2850
Phone: 248-478-2400
email: sales@zatkoff.com