Rotary Joints handle speeds to 120 rpm.
Press Release Summary: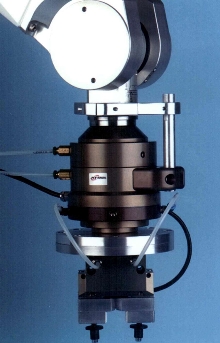 Robotic Rotary Joints allow unlimited rotation of end-of-arm tooling on industrial robots. Slip-ring design passes electrical and pneumatic signals from robot to rotating end-effector. Made of anodized aluminum alloy, joints handle payloads of 4,050 lb and torques of 6,200 lb-in. Rated IP-65, tools have 2-4 pneumatic feed-through lines at max of 10 bar and 4-10 electrical signals at max of 60 V and 1 A. Units can also be set up for BUS signal transmission.
---
Original Press Release:

Rotating Joint End-Effector Improves Flexibility and Broadens Applications Arena for Industrial Robots


A wide variety of Robotic Rotary Joints, that allows unlimited rotation of the end-of-arm tooling on industrial robots, is available from ATI Industrial Automation, Apex, N.C. The new rotary joints feature an advanced slip-ring design that passes electrical and pneumatic signals from the robot to the rotating end-effector. Typical applications include: automated buffing, polishing and grinding works cells, routing and fastening robots on assembly lines, and operations that require the tooling to rotate 360 degrees or more without resetting.

Conventional robotic tooling used for twisting or turning applications often fatigue or damage electrical and pneumatic connections requiring repair or replacement, thus reducing the cost efficiency of the operation. The robotic joint has two primary components: a rotating component, including a robot adaptor, tool adaptor and central connecting core; and a fixed component, a central ring that is held stationary by a torque rod attached to the robot arm, with electrical and pneumatic lines attached. In operation, the rotary joint allows the end-effector to freely spin an unlimited number of rotations without affecting electrical and pneumatic lines.

Robotic Joint Details
The compact, lightweight Robotic Rotary Joint is made of anodized high-strength aluminum alloy with an easy-to-use electrical and pneumatic interface. The robotic tool handles speeds up to 120 rpm, payloads of 18,000N (4,050 lbs) and torques of 700NM (6200 lb-inch). The tool has 2 to 4 pneumatic feed-through lines at a maximum of 10 bar; and 4 to 10 electrical signals at a maximum of 60V and 1A. The unit can also be set up for BUS signal transmission. It has been tested beyond 1 million rotations and is rated IP-65 (splash proof). Twelve models are available to meet a wide variety of applications.

For more information on Robotic Rotary Joint contact, ATI Industrial Automation, Pinnacle Park, 1031 Goodworth Drive, Apex, NC 27539, phone 919-772-0115, fax 919-772-8259, www.ati-ia.com.

More from Electronic Components & Devices