Rotary Joint targets steam and thermal oil applications.
Press Release Summary: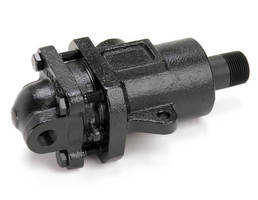 Designed for applications with rotating pipe and 2 flow passages, SNX self-supported rotary joint features convex seal ring, rotating horizontal pipe, and 2 carbon graphite support bearings that are widely-spaced to support joint. It is available with 1 in. threaded or quick-release flange nipple connection and is rated for up to 500°F, 300 psig, and 450 rpm for steam service. Joint can also be applied to thermal oil applications up to 650°F and 150 psig.
---
Original Press Release:

Kadant Johnson Introduces New Rotary Joint for Steam and Thermal Oil Applications



Three Rivers, Mich., July 1, 2009 - Kadant Johnson Inc., a subsidiary of Kadant Inc. (NYSE:KAI), introduced a new self-supported rotary joint for steam and thermal oil applications. The new SNX rotary joint is designed specifically for applications with a rotating pipe and two flow passages. It also features a convex seal ring and two carbon graphite support bearings.

The two support bearings are widely-spaced to support the joint and rotating horizontal pipe. The external bearing is free to rotate, distributing overall wear and extending the rotary joint life. The rotating pipe is sealed and supported by the end of the nipple, thereby eliminating drive key wear resulting from rotating pipe misalignment. In addition, the o-ring sealed spring shoulder and internal differential seal for the rotating syphon pipe provide a positive seal between the steam inlet and condensate outlet.

The SNX rotary joint is available with a 1" threaded or quick-release flange nipple connection and is rated up to 500 F, 300 psig, and 450 RPM for steam service. In addition to steam applications, the SNX rotary joint can be applied to thermal oil applications up to 650 F and 150 psig.

Kadant Johnson Inc., based in Three Rivers, Michigan, is a leading provider of rotary joints, precision unions, and fluid handling systems to process industries, where they optimize heat transfer in rotating cylinders and integrate fluid handling systems.

Kadant Inc. is a leading supplier to the global pulp and paper industry, with a range of products and services for improving efficiency and quality in pulp and paper production, including paper machine accessories and systems for stock preparation, fluid handling, and water management. Our fluid-handling products are also used to optimize production in the steel, rubber, plastics, food, and textile industries. In addition, we produce granules from papermaking byproducts for agricultural and lawn and garden applications. Kadant is based in Westford, Massachusetts, with revenues of $329 million in 2008 and 1,700 employees in 16 countries worldwide. For more information, visit www.kadant.com.

Danielle Rohrer

Marketing Manager

Kadant Johnson Inc.

805 Wood St.

Three Rivers, MI 49093 USA

Tel: +1-269-278-1715

Fax: +1-269-273-2230

Email: danielle.rohrer@kadant.com

Web: www.kadant.com

Related