Rotary Hammers have smooth-running, ergonomic design.
Press Release Summary: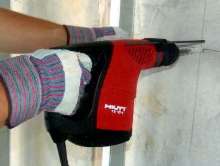 Models TE 16 and TE 16-C feature regulated motor, compact design for tool balance, and recessed controls. Suited for mechanical, electrical, and seating contractors, Model TE 16 provides repetitive hole drilling in medium-diameter range. Model TE 16-C offers additional chiseling function suitable for masonry and concrete. Both are packaged in impact-resistant case with depth gauge, dust shield, cleaning cloth, and grease.
---
Original Press Release:
Top Performance (PUR4MNS) with Maximum Comfort

NEW HILTI TE 16 & TE 16-C ROTARY HAMMER DRILLS - YOUR LICENSE TO DRILL

TULSA, (Okla.) - August 12, 2004 - Setting new standards in performance, reliability and ergonomic design, the new Hilti TE 16 and TE 16-C Rotary Hammer Drills are your license to drill. With a powerful motor and innovative design concept for reliability and long life, these quiet, smooth-running tools provide top performance and maximum working comfort.

Thanks to an optimized, regulated motor, improved gearing and a unique cooling system, the Hilti TE 16 and TE 16-C provide an increase of up to 50 percent in drilling speed and chiseling and up to 75 percent longer tool life over their predecessor. The drills also feature a compact, ergonomic design for good tool balance; recessed, conveniently placed controls to minimize damage, and less vibration for more working comfort.

The TE 16 is a powerful, yet compact rotary hammer for repetitive anchor hole drilling in the medium diameter range. Ideal for mechanical, electrical and seating contractors, the TE 16 can be used for drilling anchor and through holes in concrete and masonry, drilling wood and metal, and installing and removing masonry screw anchors.

With its additional chiseling function, the TE 16-C offers increased versatility, making it ideal for light chiseling work on masonry and concrete. It's virtually indispensable for a wide range of applications in building, construction, steel, metal and industrial trades.

Both tools come packaged in an impact resistant Hilti case with a depth gauge, dust shield, cleaning cloth and Hilti grease. They also feature removable check interface and an easy-click chuck, which allows the users to attach and remove the chuck with one hand for increased productivity.

Hilti stands behind the TE 16 and TE 16-C with its Two Year Full Service Program, which includes shipping, maintenance service, repair and replacement of all worn or defective parts, functional testing and adjustment and safety check after any repair.*

For more information on the TE 16 and TE 16-C and other Hilti rotary hammer drills, please contact Hilti Customer Service. From the US, call Hilti, Inc., at 1-800-879-8000, or in Spanish, call 1-800-879-5000; from Canada, call Hilti (Canada) Corporation at 1-800-363-4458. Additional information can also be found online at www.us.hilti.com or www.ca.hilti.com.

* Some limitations apply. See Hilti for details.

About Hilti, Inc.:

Hilti is a world-leading manufacturer and supplier of quality, innovative and specialized tools and fastening systems for the professional user. With more than 800 highly trained Hilti account managers and engineers throughout North America and an additional 1,300 Hilti employees nationwide, Hilti expertise covers the areas of powder-actuated fastening, drilling and demolition, diamond coring and cutting, measuring, firestopping, screw fastening, adhesive and mechanical anchonng, and strut and hanger systems.
More from Material Handling & Storage