Rotary Hammer Drill suits drilling and chiseling applications.
Press Release Summary: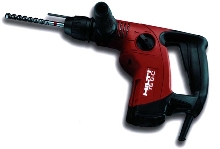 Series TE 6 drill offers quick-release chuck that allows changes between ½ in. keyed and keyless chucks. Offerings include D-handle grip, padded side handle, and Dust Removal System (DRS). Oversized controls have synchronized function selection. Model TE 6-S drills at full speed with hammering at only 30% of full impact energy and suits brittle and delicate materials, such as marble and stone. Model TE 6-C instantly switches from drilling to chiseling mode.
---
Original Press Release:
Hilti's New TE 6-S & TE 6-C Rotary Hammer Drills Hit The Mark
TULSA, (OK)-(Aug 1, 2002) - When it comes to jobsite versatility and precision, Hilti's new TE 6-S and TE 6-C Rotary Hammer Drills are the professional's choice for durability, long-life performance and flexibility. Continuing the company's tradition of compact power, comfort and versatility, the new TE 6 Rotary Hammers offer a trio of quality features: exceptional performance, ergonomic excellence and versatile functionality. Designed to tackle diverse applications with precision and power, the TE 6-S and 6-C deliver maximum productivity for every drilling and chiseling application. From drilling anchor and through holes in concrete and masonry to concrete clean-up work, the TE 6 Rotary Hammer Drills deliver suitable drilling and chiseling power for renovation and maintenance projects as well as new construction jobsites. Speed & Convenience Hilti's new TE 6-S and TE 6-C provide improved engineering to deliver up to 50% longer life than the previous Hilti TE 5 Rotary Hammer. In addition, the TE 6 Rotary Hammers drill up to 10% faster and last up to three times as long as comparable equipment from other manufacturers. Both TE 6 Rotary Hammers feature Hilti's distinctive "quick release chuck" feature to improve performance and reduce delays at the jobsite by allowing quick changes between ½ in. keyed and keyless chucks. Comfort & Balance Combining industry-leading lightweight design and superior quality, the TE 6 Rotary Hammers offer unparalleled ergonomic excellence. The ample D-handle grip and padded side handle assure operator comfort by diminishing vibration and helping to reduce jobsite fatigue. Efficient & Versatile For greater accuracy and ease, the TE 6 Rotary Hammers also feature oversized controls-with easy-grip access and synchronized function selection-for comfortable, convenient operation and the capability to easily change operation mode. Full power forward and reverse operation increases efficiency. Drill and chisel as needed and then use the handy 2-way power switch to remove stuck drill bits, drive and remove concrete screws and handle many other common jobsite tasks. TE 6-S: The Right Selection for Specialized Drilling The choice for versatility! While the TE 6-S is engineered to provide solid power, it can also drill at full speed with hammering at only 30% of the full impact energy. This distinctive capability allows operators to perform Precision Specialty Drilling (PSD)- less vibration, reduced contact pressure-for brittle and delicate materials such as marble and stone. TE 6-C: Chisel Function Shapes Winning Results A piece of perfection! Improve productivity and eliminate downtime with the ability to instantly switch from drilling to chiseling mode for light clean-up work on concrete and masonry. The TE 6-C expands any professional's jobsite flexibility by combining powerful hammering action and corrective chiseling in one handy resource. TE 6 Dust Removal System A clean winner! To provide a cleaner, safer jobsite and virtually dust-free drilling, the new TE 6 Dust Removal System (DRS) enhances the performance and versatility of both TE 6 Rotary Hammers. With its self-contained, modular design, the TE 6 DRS is lightweight, compact and convenient. Adding to its economical, efficient design, the TE 6 DRS features a reusable dust filter and telescopic tube with integrated depth gauge. With the TE 6 DRS, professionals can enjoy greater protection and reduce airborne particles in inhabited interiors or sensitive environments such as laboratories, hospitals, healthcare institutions, food manufacturing facilities and computer equipment rooms. Lifetime Performance Hilti's new TE 6-S and TE 6-C Rotary Hammer Drills surpass previous rotary-hammer drill standards to deliver new levels of performance, comfort and versatile functionality. Engineered to meet Hilti's demanding requirements-and exceed operator expectations with unrivaled ergonomic balance and comfort-the TE 6 Rotary Hammer Drills provide operators the ideal blend of power, versatility and long-lasting excellence. Also, Hilti's Two Year Full Service Repair Program* extends the long-life performance with complete maintenance or repair service, including repair and replacement of all worn out or broken parts, functional testing and adjustment as well as safety check after any repair. For additional information on Hilti drilling systems, contact a Hilti Customer Service Representative today. From the US, call Hilti, Inc., at 1-800-879-8000, or visit us online at us.hilti.com; from Canada, call Hilti (Canada) Corporation at 1-800-363-4458 or go to www.ca.hilti.com. About Hilti, Inc. Hilti is a world-leading manufacturer and supplier of quality, innovative and specialized tools and fastening systems for the professional user. With 700 highly trained Hilti field representatives throughout North America and an additional 1300 Hilti employees nationwide, Hilti expertise covers the areas of powder-actuated fastening, drilling and demolition, diamond coring and cutting, laser positioning and measuring, firestopping, screw fastening, adhesive and mechanical anchoring, and strut and hanger systems. More information on Hilti products and solutions can be found at www.us.hilti.com or www.ca.hilti.com. *Some Limitations apply. Contact Hilti for details.
More from Electrical Equipment & Systems