Rotary Hammer delivers 2.2 lb-ft at 0-5,800 bpm.
Press Release Summary: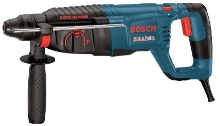 Offered in D-handle and Pistol-Grip versions, 1 in. SDS-plus® Bulldog Xtreme(TM) Models 11255VSR and 11253VSR operate from 0-1,300 rpm using 7.2 A motor. Drilling range in concrete is 3/16-5/8 in. with solid bit capacity of 1 in. and thin wall core capacity of 2 5/8 in. Piston, striker, and impact bolt and guide tube are dialed in with tight tolerances to remain concentric. Rotating brush plate provides equal power in forward and reverse for removing bound bits.
---
Original Press Release:

New Bosch 1-inch SDS-plus® Bulldog Xtreme(TM)


Fastest, Longest Lasting Breed of Rotary Hammer

Mount Prospect, IL July 19, 2005 - Three characteristics describe the new Bosch 1-inch SDS-plus® Bulldog Xtreme(TM) Rotary Hammers - fastest, longest lasting and most productive. For concrete drilling, professionals have depended on the Bosch Bulldog(TM) for more than 25 years. Today, as the market leader and innovator, Bosch continues to provide the best with the Bosch Bulldog Xtreme Rotary Hammers in both D-handle (11255VSR) and Pistol-Grip (11253VSR) designs.

For rotary hammers, speed and long life are the top requirements. And the Bosch Xtreme answers the call with a total system improvement. Faster than the competition, this means significant time saved over a full days drilling. And in terms of life, the new Bosch Xtreme lasts longer than any key competitor in its class, period! Convert that into productivity and replacement tool dollars, and there is no competition. (Independent testing by Trace Laboratories in 5000 PSI concrete - April/May 2005)

To achieve such a competitive advantage, Bosch truly made a total system improvement. Vital components such as the piston, striker, impact bolt and guide tube are "dialed in" with tight tolerances to remain concentric, smoothly transfer impact energy and last longer. Combine this with a more powerful and better cooled 7.2 AMP motor, and drilling speeds also increase. Additionally, reinforced gearing and more gear teeth increase tool life and enable higher load carrying capacities for better performance. When the system hits harder (2.2 ft. lbs. at 0-5,800 BPM), drills faster (0-1,300 RPM) and is consistently on target, users see results measured in dollars, as well as holes drilled.

For general contractors, electricians, HVAC contractors, window and door installers and façade builders, the Bulldog Xtreme offers a world of application opportunities. Some include drilling for Tapcons for brackets and junction boxes, Redi-Drives for window frames and signage, sleeve anchors in brick and block-base materials for support, and wedge anchors for precast panels (tilt up) or stud walls. Others may include dowling applications, class capsules when installing heavy machinery, LDTs for racking and seating or even simple drop-in anchors for pipe and cable tray support.

At the top of its class, the Bulldog Xtreme optimal drilling range in concrete is 3/16-inch to 5/8-inch with a solid bit capacity of 1-inch and thin wall core capacity of 2-5/8-inches. At only 6.7 lbs and 17.25-inches (d-handle) or 6.4 lbs and 14.75-inches (pistol grip), these tools bring a lot of productivity to the table for their size.

The on-tool features of the 11255VSR/11253VSR Bulldog Xtreme models also make extreme difference when it comes to deciding which tool to buy. Such features include the highly successful patented rotating brush plate, which provides equal power in forward and reverse for removing bound bits, plus adds significantly longer brush life. The patented cord turret rotates 35 degrees on a ball joint for added cord durability. Each Bosch invented and industry standard SDS-plus tool holder offers tool-free bit changes with automatic bit locking, dust protection and maximum impact energy transfer. An integral clutch helps minimize torque reaction. And a three-mode selector makes changes between rotary hammer, hammer-only or rotation-only modes quick and easy.

Other features include a soft-grip trigger handle and a 360-degree soft-grip auxiliary handle with built in quick release depth gauge for better control and comfort. A variable-speed trigger allows accurate bit actuation in addition to better control when removing fasteners or bound bits.

The Bosch Bulldog Xtreme 1-inch SDS-plus Rotary Hammers are available as of July 1, 2005 complete with auxiliary handle, depth gauge and carry case. The Bosch 11224VSR will continue to be available. Bosch SDS-plus S4® Hammer Carbide Bits can be purchased separately; sizes range from 5/32-inch diameter/6-inch overall length to 1-inch diameter/10-inch overall length.

About Bosch Power Tools and Accessories:
Bosch Power Tools and Accessories is one of the divisions within the $1 billion, 4,000 employee strong Robert Bosch Tool Corporation, which is the North American branch of the largest power tool and accessory manufacturer in the world, Robert Bosch GmbH. Bosch provides a complete line of corded and cordless power tools and accessories engineered to survive any jobsite and allow professionals to take control of their work. For more information, call toll free 877-BOSCH-99 (877-267-2499) or visit www.boschtools.com.

About Bosch North America:
In addition to power tools and accessories, in North America the Bosch Group manufactures and markets automotive original equipment and aftermarket products, industrial automation and mobile products, security technology, packaging equipment and household appliances. Overall, Bosch employs more than 23,300 associates in more than 80 facilities throughout North America and reported sales of $6.6 billion in 2003. Visit www.boschusa.com.

More from Material Processing