Rotary Grinders recycle wood and plastic waste.
Press Release Summary: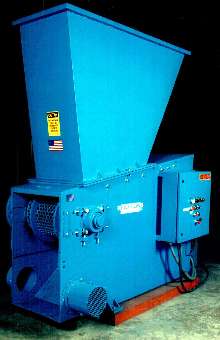 Vertical Rotary Grinders operate at 120 rpm with 30,000 lb-ft of torque and noise level from 80 to 85 dB. Rotor shaft incorporates 1 3/4 x 11 in. solid steel discs, each pocketed to accept 3 knife holders. Knives are made from A2 tool steel to hardness of 60 Rockwell. Grinders have heavy-duty ram constructed of 5/8 in. thick top plate. Nylon glides and position adjustments eliminate metal-to-metal contact. PLC controls monitor and control all functions.
---
Original Press Release:
Grinder Line from Recycling Technologies for High Output Applications Distinctive to the Industry

HICKORY, North Carolina ---A high quality line of vertical rotary grinders used to economically recycle industrial waste, with features distinctive to the industry, are now available from Recycling Technologies, Inc. (RTI) of Hickory, North Carolina.

The U.S.designed and manufactured RTI grinders for recycling wood and plastic waste have a low 120 revolutions per minute, a low noise level from 80 to 85 decibels for comfort and safety and a high torque of 30,000 ft/lbs per inch.

Complete with an industry-high two-year warranty, extra heavy-duty all steel construction and thicker sidewalls, the RTI grinders are built for heavy-duty applications and long life.

The cutting system is engineered to cut through the most difficult wood or plastic waste material including hardwood, softwood, green wood, stumps, strips, blocks, squares, particleboard, paper, cardboard, plywood, pallets, end cuts, bark, edgings, veneer, MDF and plastic, including Ridge PVC.

Material is ground into high quality chip for pulp, partial board or broiler fuel or plastic for use back into the production process.

"We built our grinders to last with features other units may not have such as recessed knife holders and use of thicker plate steel," noted Steve L. Mullis, President of Recycling Technologies, Inc. "Our grinders have been field tested, with results showing a performance capability that outperforms any other brand."

Grinder Specifications

Distinctive features of the RTI vertical rotary grinders include the rotor shaft that incorporates strategically keyed 1 3/4 in. by 11 in. solid steel discs, each pocketed to accept three knife holders. Knife holders are designed recessed into the rotor instead of placement on top for added operational strength. Rotor knives are six times indexable, with a 180-degree rotation for easy maintenance.

Both the rotor shaft and knives are CNC-precision tooled in house to assure quality and strength. Knives are made from A2 tool steel to a hardness of 60 Rockwell. The rotor and the disc come with a limited lifetime warranty.

Flange bearing adjustments set the knife to 1 1/8 in. clearance from the counter knife, which are scalloped to accept the flight of the rotor knives and heat treated for strength. The counter knives are also indexable.

RTI grinders are engineered with a solid, one-piece forged steel shaft, a heavy-duty ram constructed of 5/8 in. thick top plate and with nylon glides and position adjustments that eliminate metal-to-metal contact, and solid-state PLC controls that monitor and control all functions.

Sensors continuously monitor material entering the hopper and stop the unit if material is too heavy or hard based on the PLC parameters.

The heavy-duty steel hopper has a 2 to 7 sq. yd capacity, with a feed opening that varies from 20 x 36 in. on the smaller models and 84 x 90 in. on the larger volumes. Throughput varies from 200 to 7,000 lbs per hour, depending on the model. Hopper width varies from 27 to 84 in. depending on the model.

The frame is supported and balanced with 3/4-in. sidewalls and a 5 degree one inch thick floor, sloped for handling large quantities of waste. A branded belt transfers power to a Class II speed reducing gear box mounted with shock absorbing washers. The grinders also have a single drive 30 to 100 hp motor, a 3, 5 or 8 hp piston pump with standard cooling system and 2,000 to 5,000 psi with 4 to 6 gpm.

A standard hydraulic fluid coupling protects against start-up and shock and protects the rotor and shaft from damage when tramp material or metal enters the hopper.

Optional features include a magnetic separator, shake conveyors, belt conveyors and horizontal feed grinders.

RTI also offers custom design capabilities to meet exact customer
specifications and offers complete turnkey systems from the auger to the track. The company services both RTI and competitive machines, with service for replacement parts provided within 24 to 48 hours.

"We offer high quality, cost effective grinders designed for long life, strength and optimum productivity" noted Mullis. "Since our grinders are Made in the U.S., all parts are available locally for a 24 to 48 hour turnaround."

Recycling Technologies was formed in Hickory in 1997, initially serving the furniture industry. The company is currently expanding outside of the Southeast and is actively seeking distributors throughout the United States and Canada.

For more information on the RTI line of grinders, contact Recycling Technology, Inc., 120 25th Street S.W., P.O. Box 1474, Hickory, North Carolina 28603, Telephone (828) 304-0195 or FAX (828) 304-0197. The E-Mail address is mulligan1@earthlink.net. The company can also be found on the web at www.recyclingtechnologies.com.


More from Electronic Components & Devices