Rotary Encoder suits MRI and other extreme EM environments.
Press Release Summary: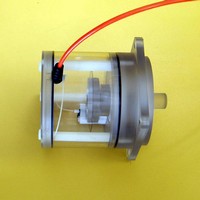 Designed for use in motion control systems operating in electromagnetic fields, TD5207 Non-Metallic Fiber Optic Rotary Encoder offers 200 ppr resolution in 3.0 in. square flange housing. In operation, TD5207 Sensor links to MR310 Remote Encoder Interface Module via simplex fiber link, which can be up to 1,000 m long. Based on ZapFREE(TM) Fiber Optic Rotary Encoder technology, unit serves as control feedback for pneumatic or hydraulic drive systems.
---
Original Press Release:

Fiber Optic Rotary Encoder for MRI and other Extreme Electromagnetic Environments



Newbury Park, California, June 2, 2008

Micronor's new TD5207 non-metallic fiber optic rotary encoder is designed specifically for use in motion control systems operating in extreme electromagnetic fields. Medical diagnostic and research applications include MRI (magnetic resonance imaging) or NMR tomography (nuclear magnetic resonance) imaging systems. Industrial applications include electromagnetic phase or similar separation processes. The encoder also serves as the control feedback for pneumatic or hydraulic drive systems purposely operated in these same extreme environments and applications.

Based on Micronor's patented ZapFREE(TM) Fiber Optic Rotary Encoder technology, the all-optical, totally passive TD5207 Encoder/Sensor is identical in design to Micronor's MR3XX series fiber optic encoders except for its construction of non-metallic materials. In operation, the TD5207 Sensor links to the same MR310 Remote Encoder Interface Module via a single fiber link - which can be up to 1000 meters long. The "active" MR310 Module directly provides an array of conventional digital/analog speed and position feedback signals, including: A/B quadrature signals, programmable analog outputs (both 4-20mA and 0-10V) and RS232/RS422/RS485 serial interface.

The ZapFREE(TM) encoder system (U.S. Patent 7,196,320) utilizes telecom-proven WDM (wavelength division multiplexing) technology by assigning each internal optical path (A or B) to a wavelength so that all wavelengths/paths can be combined onto a single fiber. The single fiber interface makes the installation and connection of the encoder both exceedingly simple and elegant; in contrast to the bulky, multi-conductor shielded cabling that conventional optical rotary encoders or even resolvers require. These fiber optic sensors overcome the limitations of conventional optical rotary encoders which can be affected by EMI/RFI, ground loops, lightning and ESD as well as restricted use in explosive atmospheres. For these reasons, the MR3XX series fiber optic encoders have become the feedback solution of choice for a broad range of harsh and hazardous environments.

The basic TD5207 encoder offers 200ppr resolution in a 3.0" square flange housing. Other configurations and performance options can be engineered for OEM applications. In small quantities, the TD5207 encoder is $2495 and the MR310 module is $1995 - availability is stock to 4 weeks ARO.

About Micronor
Micronor is a leading supplier of reliable and rugged components for industrial automation and process control industries as well as military, aerospace and other harsh/hazardous environment applications. Motion control products include encoders, resolvers, cam timers, programmable limit switches, motorized potentiometers, pulse generators and ergonomic pendant stations. Micronor was founded in 1968 and has regional headquarters in both the United States and Europe.

CONTACT INFORMATION:
Dennis Horwitz
Vice President, Sales & Marketing
Micronor Inc.
3483 Old Conejo Rd, Suite 203
Newbury Park, CA 91320
TEL: (805) 499-0114
FAX: (805) 499-6585
EMAIL:dennis.horwitz@micronor.com
http://www.micronor.com

More from Laboratory and Research Supplies and Equipment