Rotary Drum Screen separates solids from waste streams.
Press Release Summary: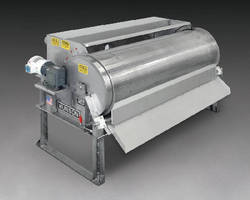 Constructed of stainless steel, Model 24-RDS-72 removes solids from industrial and municipal waste streams, and recovers solid product from process streams, at rates from 600–2,790 gpm, without blinding or clogging screen. System comprises 24 in. dia x 72 in. long cylinder, variable speed drive for adjustment of drum rotation speed, head box, discharge chute, and support structure. Wedge-wire screen of cylinder is available in orifice sizes from .002–.110 in.
---
Original Press Release:

Rotary Drum Screen Separates Solids from Waste Streams without Clogging



UTICA, NY -- A new, compact Rotary Drum Screen from Munson Machinery removes solids from industrial and municipal waste streams, and recovers solid product from process streams, at rates from 600 to 2,790 gal/min (2,270 to 10,560 liter/min) without blinding or clogging the screen, while reducing floor space and headroom requirements compared with non-rotating equipment of equivalent capacity, according to the company.



The stainless steel unit, Model 24-RDS-72, is comprised of a 24 in. (61 cm) diameter x 72 in. (183 cm) long cylinder with durable wedge-wire screening, a variable speed drive, head box, discharge chute and support structure.



Solids-laden effluent discharges from the head box and overflows a weir, flooding the entire length of the variable speed, rotating wedgewire drum screen. Solids deposited on the screen gravity-drain through slotted apertures to moisture levels in the 20 percent range before being removed by a doctor blade and chute.



Liquid passing through the screen falls onto an internal baffle that concentrates the flow, forming a full-length water knife that impinges against the underside of the screen, dislodging any solids trapped in apertures, even when handling oily, greasy, fibrous or resinous matter.



A variable-speed drive allows adjustment of drum rotation speed to achieve maximum dewatering effectiveness.

The wedge-wire screen of the cylinder is available in many orifice sizes from .002 to .110 in. (50 micron to 2.75 mm).

The rotating drum is the only moving part, minimizing initial cost, operating cost and maintenance.



Models with drums 24 in. (61 cm) in diameter are offered in lengths of 36, 48, 50, and 72 in. (91, 122,127, and 183 cm).  Models with drums 36 in. (91 cm) in diameter are offered in lengths of 96 and 120 in. (244 and 305 cm).



Typical applications include: separation of various solids and sludges from municipal and industrial wastewater, food processes, pulp and paper production and rendering processes; removal of extruded pellets from cooling baths; and separation of debris from any variety of plant and equipment cleaning processes.



In addition to liquid/solid separation equipment, the company manufactures size reduction equipment including Pin Mills, Attrition Mills, Rotary Lump Breakers, Screen Classifying Cutters, Rotary Knife Cutters, Hammer Mills and Shredders. Mixing and blending equipment includes Rotary Batch Mixers, Continuous Rotary Blenders, Vee-Cone Blenders, Ribbon/Paddle/Plow Blenders, Fluidized Bed Mixers and High Intensity Blenders.



For information contact

Munson Machinery Company, Inc.

800-944-6644

info@munsonmachinery.com

www.munsonmachinery.com

More from Material Handling & Storage