Rotary Drum Filter provides liquid-solid separation.
Press Release Summary: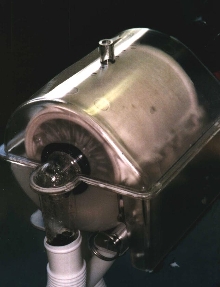 Disposable rotary drum filter is only 6 in. dia by 7 in. long. It consists of polycarbonate outer shell and housing made from porous UHMW Polyethylene (15-45 micron sieve). Drum is 3 in. dia by 4.5 in. long with surface area of 42.4 in², and effective filtration area of 14 in². Filter offers slurry-processing rates of 1 to 3 Lpm and batch processing capacity of 900 L if continuously operated for 8 hr period.
---
Original Press Release:
Disposable Rotary Drum Filter for Clean, Cost-Saving Liquid-Solid Separation
A disposable rotary drum filter claims to produce equivalent output to traditional batch separation techniques at much lower cost and in much less space than older, traditional methods using centrifuges and/or batch filtration equipment like plate, frame or leaf filters. The patented filter (US # 6,336,561) is only 6" diameter by 7" long and has complete shipping weight of 2 lbs. The operational concept of the disposable rotary drum filter: "a continuous operating device" can be a much smaller piece of equipment than a batch device. Steadfast Equipment Inc. is the manufacturer of the molded polycarbonate "throw away" device that is driven by a companion reusable, variable- speed, electric (110v/1ph/60hz) drive and holder assembly. Steadfast Equipment Inc.'s new rotary drum filter consists of a polycarbonate outer shell, housing a drum made from porous UHMW Polyethylene (15-45 micron sieve). A drum size of 3" diameter by 4.5" long gives a surface area of 42.4 in² and effective filtration area of approx. 14in². Test results showed slurry-processing rates of 1 to 3 liters per minute and a batch processing capacity of 900 liters (240 gallons) if continuously operated for an 8-hour period. Actual production performance is a function of the subject material/liquid characteristics to be separated, drum media choices (this is variable) and all operating conditions. The new disposable rotary drum filter was designed for applications in laboratory, pilot plant, or other small capacity production applications. In addition the sealed, "throw away" eliminates the need centrifugal/ batch filtration units have for costly manual cleaning operations requiring the unit to be opened to an outside "uncontrolled," possibly contaminating environment. Users would often pay as much or more in costs to clean and prepare a traditional batch solid-liquid separation device between batches as the new Steadfast rotary drum filter. Steadfast's disposable rotary drum filter was developed especially for processes requiring efficient, clean, and reliable solid-liquid separations, in such industries as: beverage, brewing, chemical, food processing, hazardous materials, juice, pharmaceuticals, water & waste management, and wine production. For further information, please contact: John Kossik, Technical Manager
Steadfast Equipment
16511 4th Dr. SE
Mill Creek, WA 98012
Tel (206) 409-7594
Fax (425) 867-1404
E-Mail: sales@steadfastequipment.com
Website: www.steadfastequipment.com
More from Machinery & Machining Tools