Impeller / Propeller / Turbine - Agitators / Mixers
Rotary Drum Batch Mixer quickly produces uniform blends.
Press Release Summary: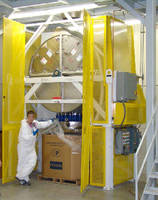 Employing rotary drum mixing technology, Rollo-Mixer® Mk 8 is designed for uniformly blending dry particulates within 2-3 min. It creates rivers of material that gently divide and combine batch several times per revolution, resulting in gentle and homogeneous blending. Also, instantaneous discharge capability allows entire batch to empty completely within seconds. Areas of use include food, specialty products, and high-purity batch mixing applications.
---
Original Press Release:

Continental Products Introduces the NEW Rollo-Mixer ® Mk 8 Batch Mixer



The Rollo-Mixer ® Mk 8 batch mixer is an exciting new addition to Continental's line of rotary drum mixing technology. The Mk 8 batch mixer is designed for uniformly blending dry particulates within 2 to 3 minutes. Like all Rollo-Mixers, the Mk 8 batch mixer creates rivers of material which gently divide and combine the batch several times per revolution, resulting in a quick, gentle, homogeneous blend. However, the Mk 8's instantaneous discharge capability allows the entire batch to empty completely within seconds! www.continentalrollomixer.com/mixers/mk8/

The new Rollo-Mixer ® Mk 8 batch mixer, with over seven years of research & development, was originally designed to blend powdered drink mixes with over 11 ingredients uniformly. These fine powder formulas consist of 2 to 3 gram additives which are evenly distributed throughout the batch. 100% product discharge is achieved by gravity into packaging containers. www.continentalrollomixer.com/mixers/mk8/benefits.php

This revolutionary design is unique to the dry solids processing industry. The Mk 8 batch mixer is ideal for Food, Specialty Products and high purity batch mixing applications, where cleanout and easy access are critical for quick product change over between batches. www.continentalrollomixer.com/mixers/mk8/cleanout.php

See the Mk 8 Rollo-Mixer video on Continental's web site which shows an entire batch cycle including loading, mixing and discharging. www.continentalrollomixer.com/videos/introducing_mk8.php

Continental Products manufactures the "Rollo-Mixer", a rotary drum batch mixer, which is well known for its uniform blending as well as precision liquid addition capabilities in Free-Fall. The Rollo-Mixer is used in mixing, blending and coating application in a wide variety of industries throughout the world. www.continentalrollomixer.com/industries

The Continental Rollo-Mixer ® is a Rotary Drum Batch Blender that uniformly blends ingredients having a wide variance in particle size, density, and proportions, typically in only 6 to 9 revolutions. Product moves by gravity in all planes. The gentle, low-shear, fast-mixing, positive displacement action creates continuous rivers of material which course into and flow through one another in a random confluence. This Rollo-Mixer achieves uniformity in 2 to 3 minutes; utilizing the least amount of energy per ton in the industry. The Continental rotary drum batch mixer ® is available in 4 designs and over 125 models; ranging from 3.5 to 1600 ft3 capacity. www.continentalrollomixer.com/mixers/models.php

For 50 years, Continental Products has been working directly with its customers in all aspects, from testing, engineering, manufacturing, and start-up, to service, consulting and technical support. Continental's customers are among the leading manufacturers in their industries, setting new standards of quality and consistency with Continental's mixing and coating technology. Continental's test facility is equipped with a variety of Rollo-Mixer® test models, liquid spray systems and heating and cooling capabilities. www.continentalrollomixer.com/test

Contact Us: Please visit www.continentalrollomixer.com for more information about the Continental Rollo-Mixer. Or call us 414.964.0640

Continental Products Corporation, PO Box 762 Milwaukee, WI 53211
Phone: 414.964.0640Company Information:
Name: Continental Products Corporation
Address: PO Box 762
City: Milwaukee
State: WI
ZIP: 53211
Country: USA
Phone: 414 964-0640
www.continentalrollomixer.com

More from Electronic Components & Devices