Rotary Draw Bender features internal mandrel.
Press Release Summary: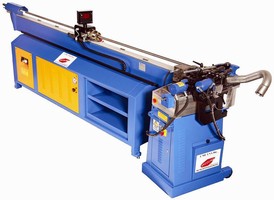 MegaBender 030 produces bends on tubes and hollow profiles. Depending on material, wall thickness, and distance between bends, included Ercolina mandrel system accommodates centerline bend radiuses as small as 1.5x OD on ¾-3 in. tube diameters. Mandrel bend systems incorporate 6 separate tools to support profile during bending process: center former, pressure die, clamping die, wiper die, collet, and internal mandrel. Tables comes in 5, 10, or 20 in. lengths.
---
Original Press Release:

Rotary Draw Bender Model MegaBender 030 with Internal Mandrel



Ercolina's patented mandrel system adapts easily to the MegaBender 030 without modification to produce high quality bends on tubes and hollow profiles when non-mandrel systems are no longer effective. Depending on the material, wall thickness and distance between bends the Ercolina mandrel system can accommodate centerline bend radiuses as small as 1.5 times the external diameter on tube diameters ranging from 3/4" to 3". Mandrel bend systems incorporate six separate tools to effectively support the profile during the bending process. The six tools are the center former, pressure die, clamping die, wiper die, collet and internal mandrel and are specific to material type and dimension. Traditional mandrel machines require high volume production to be cost effective. The Ercolina mandrel system is an inexpensive alternative to high volume systems making it ideal for prototype or production runs up to 1000 bends daily.

The MegaBender's main drive unit is electromechanical improving reliability and further reducing the cost and maintenance requirements associated with more expensive all hydraulic systems. Our hydraulic system is simple and reliable operating only the clamp die, pressure die and mandrel extractor. Ercolina's standard micro-processor controls clamping, mandrel movement, bending speed, bending angle and material spring back compensation functions for true NC semi-automatic three axis operation. Newly designed mandrel tables are available in 5", 10" or 20" lengths accommodating most applications.

Contact Information:
Machine Information: Dave Tunis Email: dtunis@ercolina-usa.com
Advertising/Marketing Information: Kim Stevens Email: kstevens@ercolina-usa.com
CML USA Ercolina
8506 North Fairmount Street
Davenport Iowa 52806
Phone: 563-391-7700
Fax: 563-391-7710

More from HVAC