Rotary DIP Switches have lifespan of 3,000 hr at 150°C.
Press Release Summary: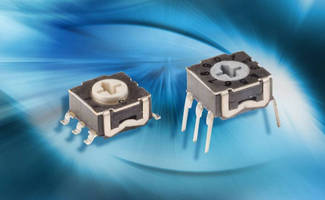 Available in surface mount and through-hole models, laser marked RTE Series feature SPDT, SP3T, and SP4T rotary functions as well as rotary binary-decimal and hexa-decimal coding. Measuring 8.0 x 7.4 x 4.25 mm, RoHS compliant units come with gold- or silver-plated contacts. Maximum contact rating for gold-plated switches is 100 mA at 30 Vdc, while silver-plated contacts have contact rating of 100 mA at 50 Vdc. Maximum contact resistance is 100 mW.
---
Original Press Release:

C&K Develops Low-Profile Rotary DIP Switches with Improved Contrast Marking, Extended Lifespan



DIP switches with laser markings, special contact plating ideal for industrial, home equipment...

NEWTON, MA - C&K Components, a leading international supplier of tact switches, toggle, rocker and pushbutton switches, and smart card interconnect devices, has developed a new series of low-profile rotary DIP switches. Available in surface mount and through-hole models, the RTE Series DIP switches feature SPDT, SP3T and SP4T rotary functions as well as rotary binary-decimal and hexa-decimal coding.

"The RTE Series DIP switches are available in two versions, with the RTE B switches featuring markings with improved contrast; while the RTE HR switches provide increased reliability to enable them to withstand aging tests that are the equivalent of 20-year usage," said Eric Grange, product manager for C&K Components. "In addition to solving these industry challenges of improved contrast marking and lifespan, the RTE Series switches also feature a wider variety of positions as well as coding, shaft and termination combinations for increased versatility."

The RTE B DIP switches improve marking visibility via a laser marking, which provides light characters on a dark background, resulting in a high contrast level. The coating features high adherence, along with aging and corrosion resistance.

Designed to withstand an accelerated life test of 3000 hours at 150°C (the equivalent of 20-year usage), the RTE HR DIP switches feature a special whisker-free contact plating for increased reliability. The extended life HR version of the switch is available upon request.

Typical applications for the RTE Series DIP switches include timers and automation components, computers and peripherals, alarm and access control systems, and instrumentation equipment.

The RTE Series DIP switches are available with gold- or silver-plated contacts. Maximum contact rating for the gold-plated switches is 100mA @ 30V DC, while the silver-plated contacts feature a contact rating of 100mA @ 50V DC. Maximum contact resistance is 100mΩ. Mechanical life is 1,500 actuations for the 2- and 3-position RTE switches and 20,000 actuations for the 4-, 10- and 16-position DIP switches. The switches are RoHS compliant and feature an operating temperature range of -25°C to +85°C. The low-profile DIP switches measure 8.0mm x 7.4mm x 4.25mm high.

About C&K Components
C&K Components is a division of CoActive Technologies, a privately held company manufacturing electromechanical switches, interface controls, keypads, dome arrays and modules. www.ck-components.com

Leads Contact:

Allison Turner

C&K Components

15 Riverdale Ave

Newton MA 02458

Tel: 617.969.3700

[email protected]

URLs: www.ck-components.com/rte/dip,10454,en.html