Rope / Cable / Wire Cutters and Cutting Machinery
Rotary Crush Cutter handles flexible materials, perforated cuts.
Press Release Summary: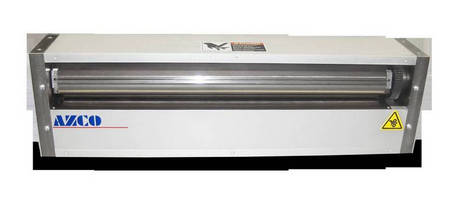 Capable of hundreds of cuts per minute, modular rotary crush cutter can be incorporated into new machine or used to replace existing units. Crush cut is achieved by blade in top cylinder cutting against hardened anvil roll, and blade spacings are available from 2 in. and up. Also, perforating blades are available with different patterns. Other features include disposable steel rule die blades, precision bearings, and extended shaft that allows attachment of timing pulley or gear.
---
Original Press Release:

Rotary Crush Cutter Ideal for Flexible Materials and Perforated Cuts



Fairfield, NJ – AZCO Corp. has designed a rotary crush cutter that is capable of hundreds of cuts per minute.  This modular unit can be incorporated into a new machine or replace existing units.  Assemblies can be customized to meet specific requirements.



A crush cut is achieved by the blade in the top cylinder cutting against a hardened anvil roll.  These units have blade spacing from 50mm/2" and up and are good for many types of flexible materials.  They are also ideal for perforated cuts; perforating blades are available with different patterns.  Benefits include disposable steel rule die blades, precision bearings designed to take high load forces, and a reliable cutting blade assembly designed for quick and easy removal,



The unit has an extended shaft on the cutting cylinder where a timing pulley or gear can be attached.  The rotary cutter should always run slightly faster than the web to ensure good cut quality without disturbing the web.  Cut length is determined by the relationship of web speed to cutting speed.



AZCO Corp. has 30 years of experience developing solutions for a wide range of feeding and cutting applications. They offer cutting edge, field proven systems and components that are easily adapted to meet the needs of the most complex applications. AZCO Corp. will provide the most efficient and cost effective solution for you.



For more information, contact:



Andrew Zucaro

President

AZCO Corp.

26 Just Road

Fairfield, NJ 07004

Phone: 973-439-1428

Fax: 973-439-9411

E-mail: cs@azcocorp.com

Web: www.azcocorp.com