Rotary Blast System works with grit or shot media.
Press Release Summary: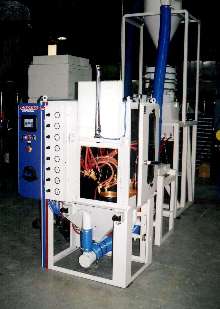 Semi-Automatic Model RSSA-6T performs blast cleaning, surface preparation, shot peening, and impact finishing. Components are fixtured on rotary table with adjustable speed. Digital readout of rpm is displayed at control panel. Finishing enclosure has 8 individually regulated, suction-blast guns mounted on multi-adjustable brackets. HMI provides multiple levels of touch-and-select displays, while PLC monitors operation and detects out-of-limit conditions.
---
Original Press Release:
Versatile Rotary Blast System

June 12, 2003 - Saratoga Springs, NY - Guyson Corporation has introduced a semi-automatic blast system that is capable of processing a wide variety of different components. The Model RSSA-6T can be utilized with grit or shot media to perform surface treatment work such as blast cleaning, surface preparation, shot peening and impact finishing.

Situated conveniently near the pneumatically actuated automatic sliding door of the blast cabinet is a rotary table or spindle on which components can be fixtured in place. Table rotation speed is adjustable, and a digital readout of revolutions per minute is displayed at the control panel. Footprint dimensions are 52" x 32" (1.3m x 0.8m).

The finishing enclosure has eight individually regulated suction-blast guns mounted on multi-adjustable brackets. Nozzles may be pre-set at a variety of angles and distances, either in fixed position or on a programmable linear traverse. Individual nozzles can easily be turned on or off during set-up for a particular component. The RSSA-6T is also available with direct pressure media delivery as well as alternative nozzle motion capabilities, such as adjustable-stroke oscillation and multiple-axis nozzle manipulation, when required.

A touch-screen operator interface streamlines the control panel of the RSSA-6T, eliminating numerous separate electrical and electronic components that would otherwise be subject to wear-and-tear or failure, such as digital readouts, switches, buttons and indicators. Control functions are represented graphically on the screen of the human-machine interface, presenting multiple levels of touch-and-select displays. The touch-screen HMI is less complicated for the human operators, yet it offers enhanced control functions and feedback. Prompts and text instructions appear on-screen in the user's language

Equipped with a programmable logic controller, the blast system can make use of electronic sensors to monitor its own operation and detect out-of-limit conditions such as low media level, loss of air pressure or a full dust drum. Fault indications can be signaled on the touch-screen panel by a warning message as well as other alarms, plus text data on faults and corrective instructions can be programmed to appear on-screen. By use of some of the latest technology, demands on the machine's operator - and many of the opportunities for human error - can be reduced.

Prospective users of the Model RSSA-6T or other automated blast systems are encouraged to submit sample components for free testing in the New York manufacturer's application engineering laboratory located in their Saratoga Springs plant.

CONTACT FOR MORE DATA:

J. C. Carson

Guyson Corporation

Tel: 518-587-7894, ext. 226

jccarson@guyson.com
More from Materials