Rotary Blast Cleaner features gun oscillation.
Press Release Summary: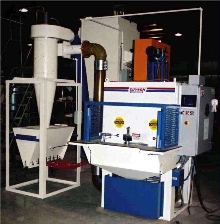 Rotary indexing, 4-spindle Model RXS-800 is equipped with mechanical oscillator that provides reciprocating vertical motion of up to 8 blast guns and is fully adjustable and synchronized with spindle rotation. Designed for 360° surface treatment of individual components, unit has single blast station where multiple nozzles are held in correct positions and angles on adjustable brackets. It is available as suction-blast system or with direct pressure media delivery.
---
Original Press Release:
Rotary Blast Cleaner Has Gun Oscillation

July 6, 2005 - Saratoga Springs, NY - Guyson Corporation has developed a mechanical oscillator for its rotary indexing Model RXS-800 to provide reciprocating vertical motion of up to eight blast guns that is fully adjustable and exactly synchronized with spindle rotation.

Designed for 360-degree surface treatment of components that must be handled individually, the mid-sized RXS-800 spindle-blast system has a single blast station at which multiple nozzles are rigidly held in the correct positions and angles on adjustable brackets. The new oscillator is located on top of the blast cabinet and smoothly moves the array of guns up and down as the component is rotated at controlled speed. Nozzle oscillation, thus, enables even coverage of exterior surfaces of the part with a smaller number of blast guns, yielding significant savings in compressed air (energy) usage.

The stroke and speed of nozzle oscillation can easily be changed to accommodate components of different height. The manufacturer claims that its roof-mounted oscillator driven by an adjustable speed gearmotor is more precise than pneumatically actuated nozzle motion systems and provides better control of blasting intensity than systems in which the blast guns move in an arced path.

In operations such as blast cleaning, descaling and surface preparation, the uniformity of the finish or surface condition over all target areas of the component, and from one component to another, may be considered critical to the quality of blasting results. The designer and builder of automated blast machinery offers other types of nozzle motion systems, including programmable linear traversing of guns and multiple-axis or robotic nozzle manipulators. However, for many applications, the simple and durable mechanical oscillator is entirely adequate, and it is a more economical alternative.

The four-spindle Model RXS-800 can be used with any type of shot or grit media and is available as a suction-blast system or with direct pressure media delivery. Numerous abrasion resistant options are recommended when aggressive media will be used.

Prospective users of the RXS-800 or other automated blast systems are encouraged to submit sample components for free testing in the machinery manufacturer's engineering laboratory located at the factory in northeastern New York State.

CONTACT

J. C. Carson

Guyson Corporation, 13 Grande Blvd., Saratoga Springs, NY 12866-9090

Tel: 518-587-7894, ext. 226

jccarson@guyson.com

More from Software