Impeller / Propeller / Turbine - Agitators / Mixers
Rotary Batch Mixer blends, heats, cools, and adds liquids.
Press Release Summary: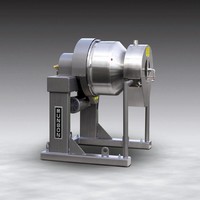 Model MX-1-SSJ features internal spray line for liquid additions, discharge chute to direct flow of discharged materials, and insulated/jacketed mixing drum that can be piped to oil, steam, or chiller system. With 1 cu ft capacity, it can distribute micro ingredients with 100% uniformity regardless of disparities in bulk densities, particle sizes, or flow characteristics of batch ingredients. Unit is suited for 3-A and USDA lab or production applications as well as industrial applications.
---
Original Press Release:

Miniature Rotary Batch Mixer Blends, Heats, Cools, Adds Liquids



UTICA, NY - A new Miniature Rotary Batch Mixer blends bulk ingredients, adds liquids and achieves 100% batch uniformity in less than three minutes while heating or cooling the batch, according to manufacturer Munson Machinery.

The mixer, model MX-1-SSJ, features an internal spray line for liquid additions, a discharge chute to direct the flow of discharged materials, and an insulated, jacketed mixing drum that can be piped to an oil, steam or chiller system.

The unit is equally effective at blending batches from 100 to 15 percent of its 1 cu ft (28 liter) capacity, and can distribute micro ingredients with 100% uniformity regardless of disparities in the bulk densities, particle sizes or flow characteristics of batch ingredients, according to the company.

Portions of the batch are constantly contacting the sides of the rotating vessel, and are folded back towards the horizontal axis, affecting a diagonal as well as a vertical tumbling motion, while proprietary lifters continuously cut out portions of the material and fold them back into the main body of the batch, resulting in rapid particle distribution without degradation. These mixing actions also cause the greatest number of particles to contact the jacketed mixing vessel's heated or chilled walls, maximizing thermal transfer efficiency.

Suitable for 3-A and USDA lab or production applications as well as industrial applications involving contamination-sensitive materials and/or frequent product changeovers, the unit features #304 stainless steel contact surfaces, wide spacing of internal flights for easy access, continuous polished welds having 0.25 in. (6 mm) radii, and external removable seals. Construction with exotic alloys as well as carbon steel is also offered, as are configurations with CIP vessel cleaning nozzles.

Ingredients are loaded through a large side access door and discharged through a plug gate. Unlike stationary mixing vessels that leave a residual "heal" of material after discharge, the rotating vessel and internal flights of the rotary mixer reportedly lift and direct the entire batch into the discharge spout for complete evacuation with no residual material, minimizing waste while facilitating rapid, thorough sanitizing with no tools.

Other Miniature Rotary Batch Mixers range in capacity from 0.25 to 15 cu ft (7 to 425 liters). The company also offers large-scale Rotary Batch Mixers with capacities of 10 to 600 cu ft (283 to 16,990 liters), as well as Continuous Rotary Blenders, High Intensity Blenders, Ribbon, Paddle and Plow Blenders, and Forberg Mixers. Size reduction equipment produced by the company includes Screen Classifying Cutters, Centrifugal Impact Mills, Rotary De-Clumpers, Attrition Mills, Hammer Mills and Shredders.

For information contact:
Munson Machinery Company, Inc.
210 Seward Ave.
Utica, NY
13503-0855
800-944-6644
info@munsonmachinery.com

www.munsonmachinery.com

More from Architectural & Civil Engineering Products