Rotary Air Compressor reduces energy consumption.
Press Release Summary: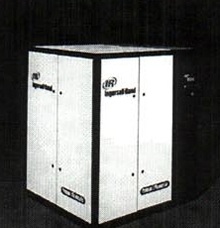 Compressor's hybrid permanent magneto HPM synchronous motor features independent coil modules that can be removed and serviced. HPM motor directly drives compressor, eliminating need for motor bearings, gears, pulleys, belts, couplings, or motor shaft seals. With fewer components to wear out, leak or get out of alignment, compressor offers increased reliability and simple maintenance.
---
Original Press Release:
Ingersoll-Rand Delivers Nirvana to Compressed Air Users

New Ingersoll-Rand Rotary Air Compressor First to Feature Hybrid Permanent Magneto (HPM) Synchronous Motor Technology- -Innovative Unit Offers Lower Operating Expenses and Increased Reliability-

WOODCLIFF LAKE, N.J, November 4, 2001 - Continuing to set the benchmark for innovative compressed air systems, Ingersoll-Rand Company (NYSE: IR), a leading diversified industrial firm, today announced that its Air Solutions business unit has introduced an advanced rotary air compressor that will enable businesses to reduce their energy consumption and costs by a minimum of 28% during the unit s operating life.

Known as the Nirvana" air compressor, the new Ingersoll-Rand unit is the first to feature a Hybrid Permanent Magneto (HPM) synchronous motor, an emerging technology that delivers significant customer benefits including increased efficiency and reliability. Currently being used in broad industrial applications such as operating elevators and powering hybrid electrical vehicles and generators, the HPM motor has been shown to dramatically minimize energy consumption.

By incorporating the benefits of the HPM motor into an advanced design package, the Nirvana air compressor offers customers the features that they value most - energy-efficiency, increased reliability, lower operational costs and reduced maintenance expenses, said John E. Turpin, president of IR s Industrial Productivity Sector. The Nirvana air compressor offers a viable and cost-effective solution for customers air compression needs and further demonstrates IR s commitment to design excellence and technological innovation.

According to the U.S. Department of Energy, industrial air compressors consume 90 billion kWh/year of electricity, which is between 10 and 12 percent of all industrial energy used in the United States. This accounts for more than $4 billion in expenses for businesses and substantial demand on already overburdened public utility grids, resulting in a great market demand for energy-efficient air compressors.

The energy-efficient Nirvana compressor features fewer rotating parts than any other air compressor in its class. Mounted onto the compressor in a cantilever fashion, the HPM motor directly drives the Nirvana compressor and helps improve reliability by eliminating the need for motor bearings, gears, pulleys, belts, couplings or motor shaft seals.

With fewer components to wear out, leak, or get out of alignment, the Nirvana compressor offers increased reliability and simple maintenance, thus helping customers avoid costly repairs and system failures, which can negatively impact productivity, said Kenneth Schoeneck, global engineering director, Ingersoll-Rand Air Solutions. Coupled with Ingersoll-Rand s time-proven, reliable airend, Nirvana is as low-maintenance as air compressor can get.

HPM Motor Key to Nirvana Developed by Leroy Somer Inc., a French division of Emerson Electric, the HPM motor used in IR s Nirvana system offers increased operating efficiency, easier maintenance, lower costs and a compact design.

Approximately one-third the size of conventional induction motors, the HPM motor is controlled by variable speed inverters which match compressor output to demand at all times and enable the Nirvana compressor to cycle on and off infinitely. By comparison, typical induction motors operate only at fixed speeds, which wastes a great deal of energy.

In addition, the HPM motor is significantly easier to repair than conventional motors. Instead of complex, continuously wound windings found within the stator of a traditional motor, the HPM motor stator features independent coil modules that can simply be removed and serviced on site by trained Ingersoll-Rand technicians.

This means that repairs can be done at a fraction of the cost to rewind a conventional motor and completed within four to six hours instead of days or weeks often required for other motors.

IR is a leading innovation and solutions provider for the major global markets of Security and Safety, Climate Control, Industrial Productivity and Infrastructure. The company s diverse product portfolio encompasses such leading industrial and commercial brands as Schlage locks and security solutions; Thermo King transport temperature control equipment; Hussmann commercial and retail refrigeration equipment; Bobcat compact equipment; Club Car golf cars and utility vehicles; Torrington bearings and components; PowerWorks microturbines; and Ingersoll-Rand industrial and construction equipment. In addition, IR offers products and services under many more premium brands for customers in industrial and commercial markets. Further information on IR can be found on the company s Web site at www.irco.com.