Ross Awarded Government Contract for Architectural Security Windows and Doors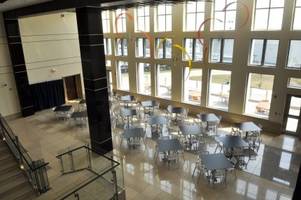 Leola, PA - (April 2017) Ross Technology, a global leader in architectural security products, has been awarded the Government Provided Equipment (GPE) contract by the U.S. Department of State to supply Forced-Entry/Ballistic Resistant (FE/BR) windows and doors. The award contract is for one year, with four optional years to follow.
Ross has been the incumbent GPE contract holder for FE/BR windows since 2005, and throughout that time has provided products to over 50 embassies and consulates.
In addition to supplying FE/BR windows, Ross has now been trusted to provide FE/BR doors as part of the new government contract.
Mark Heberlein, Ross Technology's Architectural Security Product Manager, recognizes the magnitude of the GPE Award. "We've worked very hard to provide the highest quality products and service to the Department of State over the past 12 years. It speaks volumes that, in addition to awarding us the window contract again, they've entrusted us to fulfill the requirement for the doors as well."
Ross manufactures FE/BR windows and doors tested to the U.S. Department of State threat mitigation standards. For a full list of available products and more information about the products Ross will supply as part of this contract, please view our webpage: http://www.rosstechnology.com/architectural-security/.
About Ross Technology
Ross Technology manufactures a diverse line of physical security and public safety solutions that protect people, property, and products in a wide range of applications, including antiterrorism/force protection, OSHA compliance and industrial storage. Based in Leola, Pennsylvania, the company supports construction and capital improvement projects throughout the world. For more information, please visit www.rosstechnology.com.
Steve Luscian
Ross Technology Corporation,
PO Box 646, 104 N.
Maple Avenue, Leola, PA 17540 USA
(800) 345-8170, (717) 656-2200
Fax (717) 656-3281
More from Architectural & Civil Engineering Products