Rosenberg's New, More Powerful Generation 3 EC Fan Motor Selected As Finalist In AHR 2020 Innovation Awards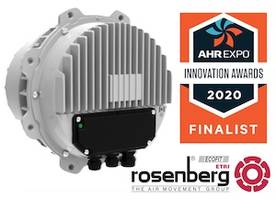 The new "Generation 3" EC motor from Rosenberg has been selected as a finalist in the AHR 2020 Innovation Awards competition. The new fan motors are used to drive axial fans and backward curved impellers in environments where power, reliability and control are critical.
Part of Rosenberg's innovation is advanced manufacturing technology that allows 40% more motor winding density creating 20-30% increased power in the same footprint. Also unique are the sophisticated electronics built-in for communication, control and greater reliability. The new motors are 100% speed controllable and are CE, UL-R, and RoHS approved.
Advancements include:
200 to 480-VAC 3-Phase Supply. Previous EC motor generations were designed for either 200-230-VAC or 380-480-VAC input power which required manufacturers to inventory both. Our new motor automatically adjusts to the actual input power across the entire range, allowing reduced inventory cost.
280 to 680-VDC Power Supply. Motor automatically adjusts from AC to DC-input voltage when required in data centers or in back-up battery applications.
Integrated inspection LED which displays the motors' condition and Modbus operation status.
Unmatched ModBus RTU functionality. The motor monitors its current power consumption, and records total energy consumption, load profile, and fan operating temperature over time. This simplifies performance optimization and preventive maintenance.
Electronic Quick-Change Technology (EQC). The motor's electronic head can be replaced within minutes without touching other parts of the fan.
IT-network (Earthing system) support for increased system fault tolerance, especially for hospitals and data centers.
Increased Power Output: the previous motor generation offered 3.5kW of power. Thanks to significant investments in our motor winding technology, Rosenberg motors now deliver 4.7 kW (33% more) output power under the same footprint. 
These functions and capabilities are built into the Rosenberg Gen 3 motor, providing more information, communication and preventive maintenance planning capabilities, in addition to the new motor's increased power and efficiency. Rosenberg's advanced electronics provide users with a level of control and reliability never before available.
Rosenberg's new Gen 3 EC motor offers users more sophisticated air movement for mission critical applications. It provides greater air movement power and electrical efficiency, advanced ModBus RTU functionality, built-in preventive maintenance and reliability features (Integrated inspection LED, Electronic Quick-Change capability, IT network support), and increased failure safety.
Typical applications include data centers, rooftop units, refrigeration, HVAC, clean rooms, schools, and hospitals. It is not enough to simply move air efficiently in these applications. Building owners and managers also want integration into Building Management Systems (BMS), as well as support for preventive maintenance and system fault tolerance planning, while minimizing maintenance and inventory costs.
About Rosenberg
The Rosenberg family of companies is headquartered in Künzelsau, Germany and employs more than 1,500 individuals worldwide. Rosenberg fans and blowers can be found in HVAC systems, as well as industrial and portable air conditioning; in air cooling for variable frequency drives (VFD), wind power generators and power converters, solar inverters, uninterruptable power supplies (UPS), transformers, heat sinks, fan coils, telecom racks and other industrial equipment; in air handling units and fan filter units (FFU); and in railway, marine, military and avionics equipment.
Rosenberg USA is located just outside Charlotte in Indian Trail, N.C. For more information, or to place an order, contact Rosenberg USA by phone at (704) 893-0883; fax (704) 882-0755 or e-mail sales@rosenbergusa.com.