Rosenberg and Ecofit Backward-Curved Fans in High Demand for Air Filtration Now Available from Stock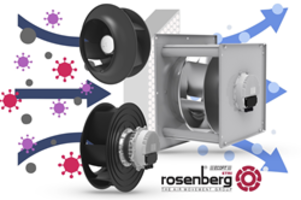 Rosenberg and Ecofit brand backward-curved fans are in high demand now for commercial and medical air filtration systems, including portable filtration appliances. Three of the most popular sizes – 250-mm, 310-mm and 350-mm EC and AC models – are available now in our North Carolina warehouse.
Charlotte, N.C. (PRWeb) September 23, 2020 -- Rosenberg and Ecofit backward-curved impellers in high demand for air filtration systems are available now for immediate shipment. This includes top-selling Rosenberg 310-mm and 350-mm models with 4-pole AC or advanced EC motors, as well as Ecofit 250-mm EC and 2-pole AC models.
Hospitals, healthcare facilities, medical office buildings and many non-medical buildings are adding or ugrading air filtration to mitigate disease transmission through the air. Fan sizing, efficiency, airflow rate and reliability are extremely important in these environments.
Rosenberg and Ecofit backward curved impellers offer a small footprint, high operating efficiency, low noise, exceptional airflow and long life. They are recognized as providing the air movement power and reliability needed to combat the spread of the COVID-19 pandemic.
For more information, or to place an order, contact Rosenberg USA by phone at (704) 893-0883; fax (704) 882-0755 or e-mail sales@rosenbergusa.com.
About Rosenberg
The Rosenberg family of companies is headquartered in Künzelsau, Germany and employs more than 1,500 individuals worldwide. Rosenberg fans and blowers can be found in HVAC systems, as well as industrial and portable air conditioning; in air cooling for variable frequency drives (VFD), wind power generators and power converters, solar inverters, uninterruptable power supplies (UPS), transformers, heat sinks, fan coils, telecom racks and other industrial equipment; in air handling units and fan filter units (FFU); and in railway, marine, military and avionics equipment. Rosenberg USA is located just outside Charlotte in Indian Trail, N.C.
Contact Information:
Katrin Rosenberg
Rosenberg USA, Inc.
http://www.rosenbergusa.com
(704) 893-0883