Roots Pumping Stations suit industrial applications.
Press Release Summary: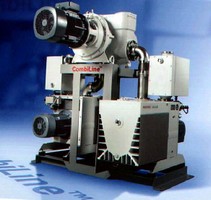 Featuring single-stage Unoline(TM) rotary vane pump, Standard CombiLine(TM) Pumping Stations are designed for applications that require pressure up to 7 x 10
-3
mbar. Units with 2-stage DuoLine(TM) rotary vane pump are suited for applications up to 3 x 10
-4
mbar, while oil-free CombiLine(TM) with RevoDry(TM) dry pump handles pressures up to 5 x 10
-3
mbar. Customer-specific pumping stations that necessitate ultimate pressures of less than or equal to 10
-3
mbar are also available.
---
Original Press Release:

Pfeiffer Vacuum's Introduces The CombiLine(TM) Roots Pumping Stations For Industrial Applications



Pfeiffer Vacuum, one of the world's leading producers of vacuum products and services, introduces the CombiLine(TM) Roots Pumping Stations for industrial applications with pressure ranges from atmosphere to high vacuum. The CombiLine(TM) pumping stations are a combination of a Roots pump or pumps and the following major components: rotary vane, turbomolecular, dry, liquid ring, cryo and diffusion pumps, vacuum gauges, analytical equipment, pumping stations control systems and bus connections. Pfeiffer Vacuum has over 40 years of experience in building standard and customer-specific pumping stations and providing individual support, training and worldwide on-site service.

Standard CombiLine(TM) pumping stations include:
o The CombiLine(TM) Roots pumping station with the single-stage Unoline(TM) rotary vane pump is designed for applications that require ultimate pressure of up to 7 x 10-3 mbar such as metallurgy, helium leak detection and electron beam welding. These cost-effective pumping stations are capable of fast evacuation of load-lock chambers.

o The CombiLine(TM) Roots pumping station with the two-stage DuoLine(TM) rotary vane pump is suited for applications that require ultimate pressure of up to 3 x 10-4 mbar such as anti-wear, decorative, optical, architectural coating and metallurgy. These pumping stations are especially suitable as backing stations for high-vacuum pumps.

o The CombiLine(TM) Roots pumping station with the RevoDry(TM) dry pump is ideal for applications that require ultimate pressure of up to 5 x 10-3 mbar including coating, metallurgy, degassing plastics and vacuum drying. This series of pumping stations is dry and oil-free which enables media to be pumped that can react with pump fluid.

o Customer-specific pumping stations that necessitate high pumping speeds and/or ultimate pressures of <10-3 mbar are also available for applications that require this high pumping speed such as solar technology, die-casting, space simulation and coating.

Pfeiffer Vacuum, Inc. develops, produces and markets key components for vacuum technology used in semiconductor fabrication, optical and thin film deposition, such as flat panel displays and TV monitors, analytical instrumentation, high energy physics, and research and development. Pfeiffer Vacuum offers an extensive range of vacuum pumps, vacuum gauges, leak detectors, mass spectrometers, and accessories such as valves, fittings and flanges.

Pfeiffer Vacuum North American operations offer marketing, sales, field services, repair, customer training, and applications and support. Sales and support functions are located throughout the U.S. with a major customer support center in Milpitas, California, in the heart of the semiconductor industry.

For further information, contact: Mark Clement, Pfeiffer Vacuum, Inc., 24 Trafalgar Square, Nashua, NH 03063-1988; Phone 603-578-6500; Fax 603-578-6550. Web site: pfeiffer-vacuum.com; E-Mail: Mark.Clement@pfeiffer-vacuum.com

Related