Roof Guardrail Kit meets OSHA standards.
Press Release Summary: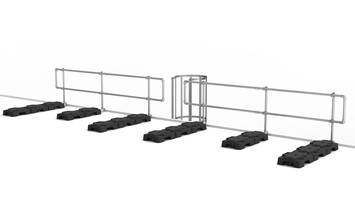 Designed to protect roof access ladders, Non-Penetrating Roof Guardrail Kit comes with 50 lb bases. Offering optional self-closing safety gate, unit's base is made of recycled rubber. Providing protection for workers at 12 ft 6 in. on each side of the ladder exit, product comes with 10-year warranty.
---
Original Press Release:
Delta Prevention Launches Non-Penetrating Guardrail Kit for Roof Ladder
Securing your roof access without damaging your membrane is made easy.
The Canadian manufacturer of non-penetrating guardrails for roof safety just released a simple way to protect every access ladder on your rooftops. The Guardrail Kit for Roof Ladder is a simple and universal safety barrier that can be installed in minutes and insure your facility meets every safety standards.
A Non-Penetrating Guardrail Kit
Most building owners would confirm the following statement: they hate the idea of anything punching through their million-dollar roof membrane. Since water infiltration and leaks over offices or production area are a nightmare for maintenance managers, Delta Prevention now offers a non-penetrating roof guardrail kit specifically designed to protect roof access ladders. At 12'6" on each side of the ladder exit, the guardrail offers ample protection for workers approaching or exiting the ladder. At the ladder exit, space between both sections is kept open thanks to the layout of the counterweight bases that allow easy access to and from the edge. An optional self-closing safety gate is also offered.
Non-Penetrating Means Easy to Install
Since there is no anchoring done in the roof structure, the installation of the non-penetrating guardrail kit can be done within minutes by your own staff with a minimum of hand tools. No cutting or welding is needed to install this kit. The 50 lb bases are easy to manoeuvre and the upright posts come pre-assembled.
Exclusive Material for Industry Leading Durability
To prevent corrosion and rust stains common to painted steel bases, Delta Prevention is the only manufacturer to use eco-friendly recycled rubber for its counterweight base. The unique material also offers very high grip over every roof covering, ensuring stability and safety. At 50 lb per piece, they are easy to move thanks to the molded-in handle. The non-penetrating guardrail kit is also protected by a 10-year warranty.
Compliant With All Fall-Protection Standards
Whether you are in Canada or in the US, Delta Prevention's non-penetrating guardrail kit for roof ladder complies with every fall safety standards from the Canadian National Building Code (CNBC) or OSHA.
Delta Prevention is a manufacturer of non-penetrating fall protection equipment for rooftop. With innovative materials and industry leading versatility, Delta Prevention's VSS System is the safest and most durable collective fall protection system on the market. Visit our website at www.deltaprevention.com
Contact:
Dominique Lafrance
Inside Sales
Delta Prevention
7000 Industriel Blvd.
Chambly, QC, J3L4X3
Url: http://www.deltaprevention.com/en/
Email: dlafrance@deltaprevention.com
Related