Roof Board suits low-slope commercial roofing.
Press Release Summary: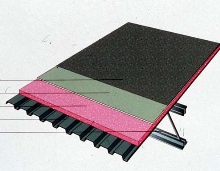 Utilizing fiber-reinforced technology, SECUROCK(TM) Roof Board is installed over roof insulation and under membrane, supplying protection, separation, and support. It resists wind uplift and protects against moisture and mold. SECUROCK can be used in single-ply, fluid-applied, built-up, spray foam, and modified bitumen roofing. Made from 95% recycled materials, board emits no VOCs and comes in 4 x 4 and 4 x 8 ft panels with choice of ¼, 3/8, and ½ in. thicknesses.
---
Original Press Release:

Innovative New SECUROCK Brand Roof Board from USG Offers Exceptional Bond Strength and Other Benefits


Experts Confirm New Product Can Enhance Roof Membrane's Performance

Building products leader USG announces the introduction of SECUROCK(TM) Brand Roof Board, a distinctive new roof cover board option for low-slope commercial roofing applications. The product's advanced fiber-reinforced technology provides superior performance benefits compared to traditional fiberglass roof boards, whose face layers can delaminate over time and generate contractor callbacks.

SECUROCK Roof Board is installed over the roof insulation and under the membrane, supplying protection, separation and support for the membrane. Its uniform composition enhances the strength of the membrane system by ensuring a stronger, more consistent bond.

Easy to install and handle, the roof board provides outstanding wind uplift performance. It also offers first class protection from both moisture and mold.

"Our tests confirm that SECUROCK Roof Board actually enhances bond strength, while providing excellent durability, wind uplift resistance and versatility," said Colin Murphy, president of Exterior Research and Design, a prominent Seattle consulting firm that conducts forensic analysis, design and testing of building envelope components and systems. "We're also finding that the roof board's unique gypsum fiber technology and uniform composition make it much less likely to delaminate, which can be an issue with competitive products."

SECUROCK Roof Board offers architects, designers, building owners, roofing contractors and other construction professionals numerous product and installation advantages -all of which can contribute to a roofs long-term performance. They include the following:
o Superior Wind Uplift Performance - Because of its uniform composition and smooth surface with no face layers to delaminate, the roof board enhances the bond strength of membrane systems.
o Fire Performance - SECUROCK Roof Board provides excellent fire performance and demonstrates exceptional surface burning characteristics.
o Moisture and Mold Resistance - Its integral water-resistant core ensures excellent resistance to moisture and mold. In independent lab tests, the product scored a 10 (the highest possible rating for mold resistance) on the American Society for Testing and Materials' ASTM D3273-00 Standard Test Method for Resistance to Growth of Mold on the Surface of Interior Coatings in an Environmental Chamber.
o Versatility - SECUROCK Roof Board can be used in single-ply, fluid-applied, built-up, spray foam and modified bitumen roofing - one product for all systems.
o Sustainability - Made from 95 percent recycled materials, the cover board emits no VOCs (volatile organic compounds) during the product's life cycle and has low embodied energy. Its high recycled content makes the product an environmentally friendly option in sustainable building construction.

The new product line has also earned the "Green Cross" certificate from Scientific Certification Systems (SCS), the nation's leading national testing company that evaluates manufacturers' environmental claims. In addition, the panels are an excellent option in LEED (Leadership in Energy and Environmental Design) Green Building Rating System(TM) applications.

The roof board is available in both 4- by 4-foot and 4- by 8-foot panel sizes with a choice of ¼-, 3/8- and ½-inch thicknesses.

For additional information, contact USG, 125 S. Franklin St., Chicago, IL 60606-4678, call (800) USG-4YOU or visit the company's Web site at http://www.usg.com/securock.

USG Corporation is a Fortune 500 company with business units that are market leaders in their key product groups: gypsum wallboard, joint compound and related gypsum products; cement board; gypsum fiber panels; ceiling panels and grid; and building products distribution.

More from Packaging Products & Equipment