Rolling Bearings feature polymer cages.
Press Release Summary: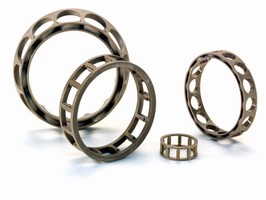 SKF angular contact ball bearings and cylindrical roller bearings feature PEEK (polyetheretherketone) cages that are resistant to aggressive compressor-related gases, exhibit mechanical properties even at temperatures up to 200ºC, resist heat aging in aggressive media, and demonstrate tribological properties relative to wear resistance and low friction. Bearings suit compressor applications in wide range of industries including natural gas, chemical, and refrigeration.
---
Original Press Release:

New Material Promotes Improved Reliability: SKF® Rolling Bearings with New Polymer Type Cages Can Serve Longer in Compressor Applications



New SKF® polymer cages offer superior thermal, friction, and wear properties compared with conventional steel, polymer, or brass counterparts to allow rolling bearings to serve longer and more reliably in compressor applications. These PEEK (polyetheretherketone) cages can operate at higher speeds, perform at higher temperatures, and provide enhanced resistance to aggressive compressor-related gases.

Rolling bearings integrating the new polymer cages will ideally suit compressor applications in a wide range of industries, including natural gas, chemical, and refrigeration, among others.

These polymer cages exhibit excellent mechanical properties (even at temperatures up to 200º C); resist heat aging in aggressive media; and demonstrate good tribological properties relative to wear resistance and low friction. Users gain improved reliability and enhanced performance over time.

These cages can be specified for the complete line of SKF angular contact ball bearings and cylindrical roller bearings (standard and Explorer series). Customized bearing solutions integrating the new cages can be developed to satisfy particular application demands.

Contact SKF USA Inc., 1510 Gehman Road, Kulpsville, PA 19443. Phone: 800-440-4SKF (toll-free). E-mail: skfusainfo@skf.com Web site: www.skfusa.com