Rolling Bearing Cages feature Diamond-like Carbon coating.
Press Release Summary: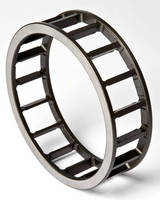 Rolling bearing cages with DLC (Diamond-like Carbon) coating improve performance of radial cylindrical roller bearings and radial deep groove ball bearings in harsh operating conditions. Amorphous DLC coating on steel cages increases resistance to breakage and lowers coefficient of friction between rolling bearing shoulders and cage, which helps prevent premature wear or abrasion. Depending on design of bearing, cage may be machined of solid steel with inner or outer ring guidance.
---
Original Press Release:

Tough and Durable: Rolling Bearing Cages with DLC Coating



Steyr, Austria. – NKE Austria GmbH introduces rolling bearing cages with DLC (Diamond-like Carbon) coating. These steel cages coated with DLC are tougher and last longer than the standard, uncoated brass variants, and are ideally suited to harsh operating conditions. Other bearing components besides cages can also be treated with the amorphous carbon coating.



As part of its continuous effort to improve the performance capabilities of its rolling bearings, NKE researches surface coating technologies and uses alternative cage materials. Bearings that are used in machines with high radial accelerations, centrifugal forces or vibrations are typically equipped with inner-ring or outer-ring guided, primarily one-piece, solid brass cages in order to minimise any undesirable effects the cage may have on the motion characteristics of the rolling elements. Examples of typical applications include big end bearings, fast accelerating gearboxes or generator systems. Although solid brass cages are an acknowledged standard, they are still subject to certain operating limits. In applications with heavy loading, excessive wear, abrasion of the cage guide surfaces or even mechanical failure can occur.



In order to improve the performance of radial cylindrical roller bearings and radial deep groove ball bearings in particular, for demanding operating conditions NKE uses a cage made from high strength material with an amorphous carbon coating, the DLC coating with NKE suffix SQ202. This increases resistance to breakage and lowers the coefficient of friction between the rolling bearing shoulders and the cage, helping to prevent premature wear or abrasion especially in applications where lubrication is difficult. The material of choice for the cage is steel, and depending on the design of the bearing the cage may be machined solid steel with inner or outer ring guidance. These cages are identified accordingly with the suffixes F(P)A or FPB.



The coating itself must satisfy the following requirements: it must be hard and wear-resistant, and adhere to the surface for the entire operating period. Due to its low coefficient of friction and good sliding properties, the coating provides protection from adhesive wear and withstands lubricant starvation conditions. One of the most important properties of the coating is that it prevents wear and thus also the abrasion particles that become trapped by the lubricating grease in the bearing. The wear process cannot be entirely stopped, but the coating improves the steel cages' resistance to wear significantly, preventing scuffing on the cage support surfaces. It helps to prolong the service life of bearings significantly in extreme operating conditions. The use of the coating is not restricted to cages – practically all NKE bearing components made from steel can be supplied with this surface treatment.



The coating has undergone application-specific tests carried out jointly with a customer, and very positive results were obtained. The service life of bearings was extended considerably, and mechanical failures were eliminated altogether. When compared directly with uncoated brass cage variants, the steel cages with the SQ202 coating offer clearly superior performance in terms of wear and strength in harsh application environments.



NKE produces standard and special bearings for all industrial applications. Engineering, product development, production and final processing of components, modular assembly, quality assurance, logistics, sales and marketing are centralised at NKE's headquarters in Steyr, Austria. The factory in Steyr is certified to ISO 9001:2008, ISO 14001:2004 and OHSAS 18001. A wide range of standard bearings is available from stock or at short production lead-times. NKE also provides tailored products and solutions. In addition to product development and application engineering NKE provides a full range of technical, consulting, documentation and training services. NKE's products are distributed through 18 international representative offices and more than 240 distribution outlets in 60 countries.



Company information:

NKE Austria GmbH is a bearing manufacturer with headquarters in Steyr, Austria. The company with about 180 employees was founded in 1996 by a group of senior staff members of former company Steyr Wälzlager. NKE produces standard and special bearings for all industrial applications. Engineering, product development, production and final processing of components, modular assembly, quality assurance, logistics, sales and marketing – are centralised at NKE's headquarters in Steyr, Austria. The factory in Steyr is certified to ISO 9001:2008, ISO 14001:2004 and OHSAS 18001. Its wide range of standard bearings is available from stock or at short production lead-times. NKE also provides tailored products and solutions. In addition to product development and application engineering NKE provides a full range of technical, consulting, documentation and training services. NKE's products are distributed through 18 international representative offices and more than 240 distribution outlets in 60 countries.



Main distributor in the USA:

Ritbearing

15151 Prater Drive

Covington, GA 30014

Tel.: +1 800 431 1980

E-mail: info@ritbearing.com

Internet: www.ritbearing.com



Contact:

NKE AUSTRIA GmbH

Rene Hörwertner, Marketing

Im Stadtgut C4

A-4407 Steyr, Austria

Tel.: +43 7252 86667 435

Fax: +43 7252 86667 59

E-Mail: r.hoerwertner@nke.at

Internet: www.nke.at



PR Contact:  

TPR International

Christiane Tupac-Yupanqui

PO Box 11 40

D-82133 Olching, Germany

Tel.: +49 (0)8142 44 82 301

Fax: +49 (0)8142 44 82 302

E-mail: c.tupac@tradepressrelations.com

Internet: www.tradepressrelations.com

More from Electrical Equipment & Systems