Roller Screws aid in linear actuation.
Press Release Summary: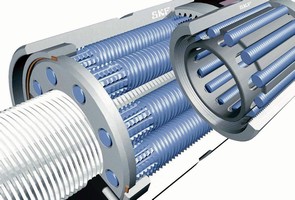 Planetary and Recirculating SKF® roller screws can sustain static loads up to 1,000 tons and dynamic loads up to 200 tons. Planetary Roller Screws feature long lead and symmetrical nut design to permit high linear speeds. Recirculating roller screws utilize lead threads as small as 1 mm for precise positioning. All Roller Screws are available in multiple styles, diameters, leads, surface treatments, lubrication, and shaft types.
---
Original Press Release:

SKF® Roller Screws for Linear Actuation Deliver Accurate and Precise Repeatability at High Speeds



SKF® roller screws for linear actuation provide ideal solutions for factory automation applications by delivering accurate and precise repeatability, rapid acceleration and deceleration, and optimized performance at very high rotational speeds. They can sustain static loads up to 1,000 tons and dynamic loads up to 200 tons, depending on type, and have been engineered for suitability in the most demanding industrial environments.

Roller screws offer a compact solution with reliable performance in factory automation applications such as assembly (welding, riveting, and pressing); handling (clamping, gripping, and robotics); and injection molding (injection, blow molding, and thermoforming).

Planetary roller screws offer the capability to carry heavy loads for thousands of hours. Their robust nut can withstand shock loads; their timing mechanism promotes reliability at high acceleration; and a long lead and symmetrical nut design permits high linear speeds.

Recirculating roller screws incorporate fine-lead threads (as small as 1mm) with the capability to optimize high-precision positioning and maintain greater load capacity.
All roller screws are available in various styles and a full range of diameters and leads to satisfy particular application requirements. They can be customized with special surface treatments, lubrication, solid or hollow screw shafts, and end machining to satisfy particular application requirements. Contact Kyle G. Fedorcha, SKF USA Inc., 1530 Valley Center Parkway, Bethlehem, PA 18017-2266. Phone: 800-541-3624 (toll-free) or 610-861-3709. Fax: 610-861-3737. Email: skfusainfo@skf.com Web site: www.linearmotion.skf.com (SKF® is a registered trademark of SKF USA Inc.)

More from Computer Hardware & Peripherals