Roller Rail System increases precision via pulsation reduction.
Press Release Summary: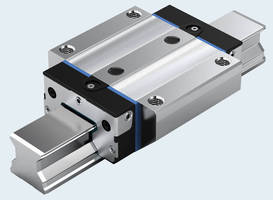 With fully interchangeable design that lets users combine any type of runner block with any profiled rail of same size, Roller Rail System High Precision (RSHP) Roller Rail Systems promote precise machining with high-quality surface finishing. Steel-insert entry zone in runner blocks reduces pulsation in transition to maximum load, universal lubrication concept minimizes required number of block types, and modular sealing protects bearings in cutting production against contamination.
---
Original Press Release:

Smooth Transition, Maximum Precision; New Generation Rexroth Roller Rail System RSHP Dramatically Reduces Pulsation



Precise machining with high-quality surface finishing: Rexroth helps machine tool operators meet today's exacting requirements with its new generation of RSHP Roller Rail Systems. The patented, re-designed entry zone in the runner blocks dramatically reduces pulsation in the transition to maximum load, thus allowing even higher precision in production. In addition, the new blocks employ a new lubrication and sealing concept, extending lubrication intervals by 20 percent and reducing the number of runner block types by two thirds. Like all Rexroth profiled rail systems, the RSHP is fully interchangeable, meaning that users can freely combine any type of runner block with any profiled rail of the same size.



In the field of machine tools, the demands for precision in machining have increased continuously for years. Thanks to Rexroth's new Roller Rail System High Precision (RSHP), machine manufacturers can now achieve the required micron-level accuracies with greater reliability than ever. The newly enhanced steel-insert entry zone loads the cylindrical rollers according to the harmonic bending line. As a result, the runner block reaches the maximum load at the transition to the load zone very smoothly. The benefit: significantly reduced pulsation, which subsequently ensures low-vibration machining and improves the quality and surface quality of every workpiece.



In addition, the new RSHP system also marks the introduction of a completely new universal lubrication concept, which extends lubrication intervals by approximately 20 percent while minimizing lubricant quantities. Resistance-optimized lubrication channels distribute the lubricant in precise doses. If overloading occurs, bypass channels transfer the lubricant, thus protecting the mechanical system.



Thanks to the universal lubrication system, machine builders can use one runner block type for every application. This reduces the number of block types by two thirds, allowing for significant inventory optimization. As with all Rexroth profiled rail systems, Roller Rail System users can freely combine rails and runner blocks of the same size. The new Roller Rail Runner Blocks RSHP are 100% interchangeable with any existing roller rail application from Rexroth.



To protect the bearings in cutting production against contamination, the modular sealing concept comprises a double-lip seal at each end. In the case of extreme external contamination, an optional seal made of fluororubber protects the bearings, and for coarse chips, a scraper plate can be provided. A longitudinal seal in the interior of the runner block reduces lubricant discharge, and a threaded metal plate at the front of the runner block RSHP provides protection against coarse dirt and chips. The lube fittings are now fitted in metal and have a reduced risk of detaching during system lubrication.



For highly precise positioning, the new runner blocks RSHP can also be equipped with Rexroth's newly upgraded integrated measuring system IMS-I. This inductive measuring system achieves accuracies comparable to those of high-precision glass scales, but does not require additional installation space. The IMS-I operates contact- and wearfree, thus increasing long-term service life and machine uptime. In addition to machine tools, Roller Rail Systems are also ideal for use in plastics machinery and presses, as well as in other heavy-duty applications.



For more information, www.boschrexroth-us.com/dcl



About Bosch Rexroth:

Economical, precise, safe, and energy efficient: drive and control technology from Bosch Rexroth moves machines and systems of any size. The company bundles global application experience in the market segments of Mobile Applications, Machinery Applications and Engineering, Factory Automation, and Renewable Energies to develop innovative components as well as tailored system solutions and services. Bosch Rexroth offers its customers hydraulics, electric drives and controls, gear technology, and linear motion and assembly technology all from one source. With locations in over 80 countries, roughly 36,700 associates generated sales revenue of approximately 5.7 billion euros ($7.6 billion) in 2013. To learn more, please visit www.boschrexroth-us.com



About Bosch:

The Bosch Group is a leading global supplier of technology and services. In 2013, its roughly 281,000 associates generated sales of 46.1 billion euros ($61.2 billion.) (NB: Due to a change in accounting policies, the 2013 figures can only be compared to a limited extent with the 2012 figures). Its operations are divided into four business sectors: Mobility Solutions, Industrial Technology, Consumer Goods, and Energy and Building Technology. The Bosch Group comprises Robert Bosch GmbH and its roughly 360 subsidiaries and regional companies in some 50 countries. If its sales and service partners are included, then Bosch is represented in roughly 150 countries. This worldwide development, manufacturing, and sales network is the foundation for further growth. In 2013, the Bosch Group invested some 4.5 billion euros in research and development and applied for some 5,000 patents. This is an average of 20 patents per day. The Bosch Group's products and services are designed to fascinate, and to improve the quality of life by providing solutions which are both innovative and beneficial. In this way, the company offers technology worldwide that is "Invented for life." Additional information is available online at www.bosch.com, www.bosch-press.com and http://twitter.com/BoschPresse



In the U.S., Canada and Mexico, the Bosch Group manufactures and markets automotive original equipment and aftermarket products, industrial drives and control technology, power tools, security and communication systems, packaging technology, thermotechnology, household appliances, healthcare telemedicine and software solutions. For more information, please visit www.boschusa.com, www.bosch.com.mx and www.bosch.ca



Contact for Journalists:

Bosch Rexroth Corporation

Susan Strauss

2315 City Line Road

Bethlehem, PA 18017

Telephone (610) 694-8352

Fax (610) 694-8352

susan.strauss@boschrexroth-us.com



Godfrey Public Relations

Ginny McCreary

40 North Christian Street

Lancaster, PA 17602

Telephone (717) 393-3831

Fax (717) 393-1403

gmccreary@godfrey.com

More from Test & Measurement