Roller Guide suits machine tool industry.
Press Release Summary: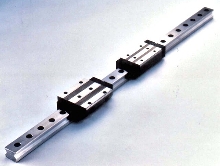 Caged Roller(TM) LM guide uses rollers with low degree of elastic deformation arranged at 45° contact angle to apply rated load in all directions. Elastomeric cage isolates each load carrying re-circulating roller in LM guides within individual cage or pocket. Cage keeps rollers uniformly aligned as to prevent skewing when entering load region of block. It also prevents roller-to-roller contact and associated friction. Cage also acts as reservoir for lubricants.
---
Original Press Release:

THK Introduces Type SRN Low-Profile, Highly Rigid Caged Roller(TM) LM Guide for the Machine Tool Industry


Schaumburg, IL (August 12, 2002) - THK's low-profile Type SRN LM guide is designed for compact designs that require maximum rigidity. These Caged Roller guides are ideal for the rigidity demands of machine tools and heavy machinery.

To ensure rigidity, THK uses rollers having a low degree of elastic deformation. THK has optimized roller diameter and length to attain extremely high rigidity. Each row of rollers is arranged at a 45° contact angle so that the same rated load is applied in all directions.

Overcoming the problems of conventional roller bearing guides, THK utilizes their revolutionary Caged Technology in their Caged Roller(TM) LM guides. THK's elastomeric cage isolates each of the load carrying re-circulating rollers in their LM guides in an individual cage or pocket. The THK cage keeps the rollers uniformly aligned so that skewing is prevented when entering the load region of the block. This THK cage also prevents roller-to-roller contact and the associated friction. Variations in rolling resistance are reduced allowing for stable and smooth movement. The cage also acts as a reservoir for lubricants, eliminating the need for an external lubricating system. Specific benefits include increased speed and accuracy of motion, decreased noise levels, long-term, maintenance-free operation and reduced sources of contamination.

The Type SRN is compatible with THK's Type SNR ultra-heavy duty LM guides.

To learn more, visit THK's IMTS booth #D-4254, visit their Web site at: www.thk.com, or contact THK America, Inc., 200 E. Commerce Dr., Schaumburg, IL 60173, Phone (800) 763-5459, (847) 310-1111, Fax (847) 310-1182, e-mail: chicago@thk.com.