Roller Bearings help extend wind turbine gearbox life.
Press Release Summary: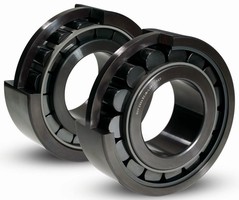 SKF® high-capacity cylindrical roller bearings feature low cross-section cage that eliminates risk of damage by roller-to-roller smearing. Cage design also increases lubrication by allowing room for oil passage, which lubricates contacts between rollers and raceways, provides cooling, and reduces risk of metal-to-metal contact. Optimized cross-sections of rings and rollers minimize potential for fretting corrosion, ring creep, and flange fracture.
---
Original Press Release:

SKF® High-Capacity Cylindrical Roller Bearings can Extend Wind Turbine Gearbox Life and Performance



New SKF® high-capacity cylindrical roller bearings for wind turbine gearboxes have been uniquely engineered to promote longer gearbox service life and optimized performance. Their innovative cage design and other special features offer enhanced reliability compared with conventional bearing types for such applications.

These bearings can accommodate up to three more rollers (depending on dimension series and size) than standard cylindrical roller bearings usually specified for wind turbine gearboxes. This serves to increase load-carrying capacity and reliability of bearings and gearbox.

Their design, including a low cross-section cage, virtually eliminates the risk of damage by roller-to-roller smearing, which is a common failure mode in bearings typically specified for wind turbine gearbox applications.

The cage design increases lubrication by allowing room for oil passage, which ideally lubricates contacts between rollers and raceways, provides better cooling, and reduces risk of metal-to-metal contact that otherwise could result in smearing and surface wear. The inner ring shoulder-guided cage particularly supports good rolling behavior, especially in low load conditions, reducing the risk of cage slip. Cages are both lightweight and strong.

Optimized cross-sections of the rings and rollers significantly minimize the potential for fretting corrosion, ring creep, and flange fracture, compared with other high-capacity bearings.

Contact Stephen Curtis, SKF USA Inc., 1510 Gehman Road, Kulpsville, PA 19443 USA. Phone: 215-513-4517; Fax: 215-513-4475. Email: stephen.curtis@skf.com Web site: www.skfusa.com

(SKF® is a registered trademark of SKF USA Inc.)

More from Mechanical Power Transmission