Roll Polisher removes build-up from roll surfaces.
Press Release Summary: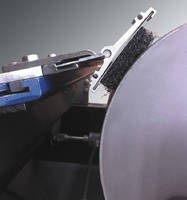 Designed for porous roll surfaces that require specialized surface cleaning and conditioning, EzKleen™ Roll Polisher removes build-up without surface regrinds or special release coatings. Unit fits into most roll cleaners and incorporates application-specific cleaning pads. Pivot point allows self-adjustment for all blade angles and roll diameter situations.
---
Original Press Release:

Kadant Solutions Introduces New Roll Cleaner and Polisher



AUBURN, Mass. — Kadant Solutions, a division of Kadant Inc. (NYSE:KAI), announced the launch of its EzKleen™ roll polisher used for removing build-up from roll surfaces. The new roll polisher is designed for a wide variety of applications and for porous roll surfaces that require specialized surface cleaning and conditioning.



According to Jerry Vandoros, product manager at Kadant Solutions, "We have seen impressive results with how quickly the EzKleen roll polisher is able to clean even the dirtiest roll surfaces, and do so safely and with minimal manpower.  We believe the real payback is in those applications where the EzKleen is able to restore the roll surface to like-new condition and prevent the customer from having to replace the roll or remove it and condition the roll surface off-machine."

For more information, a short movie detailing ways to safely and effectively remove build-up from roll surfaces can be viewed at http://vimeo.com/kadant/ezkleen-roll-polisher.



Kadant Solutions, based in Auburn, Massachusetts, is a leading supplier of doctor blades, doctor blade holders, and doctoring systems for papermaking and other industrial processes. The division's water management products are applied to the cleaning of forming and press fabrics and the filtration of process water.



Kadant Inc. is a global supplier of high-value, critical components and engineered systems used in process industries worldwide. The company's products, technologies, and services play an integral role in enhancing process efficiency, optimizing energy utilization, and maximizing productivity in resource-intensive industries. Kadant is based in Westford, Massachusetts, with revenues of $344 million in 2013 and 1,800 employees in 18 countries worldwide. For more information, visit www.kadant.com.



Vicki Hunsberger

Marketing Manager

Kadant Solutions Division

805 Wood Street

Three Rivers, MI 49093 USA

Tel: +1-508-635-6157

Fax: +1-269-273-2230

Email: vicki.hunsberger@kadant.com

Web: http://www.kadant.com



Looking to increase line productivity and safety? Watch our new roll cleaning movie: http://www.kadant.com/en/roll-cleaner-movie/





More from Machinery & Machining Tools