Roll-Out Shelves provide mold, die, and fixture storage.
Press Release Summary: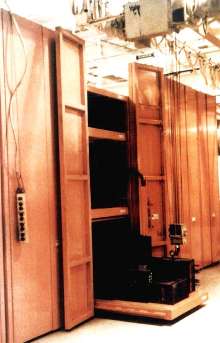 Powered roll-out shelves are designed for storing molds, dies, fixtures, and other heavy, hard to maneuver items. User rolls out shelf, picks up item with overhead crane, and moves it directly into area where needed. Custom sizes are available with capacities up to 40,000 lbs per shelf.
---
Original Press Release:
Powered Roll-Out Shelves

MOLD, DIE AND FIXTURE STORAGE

Powered roll-out shelves are ideal for storing molds, dies, fixtures and other large, heavy, hard to maneuver items. You simply roll out the shelf, pick up the item needed with the overhead crane and move it directly into the area where needed, saving two or three steps in handling the item. By adding back, sides and doors, you will have a very neat appearance. Custom sizes are available with capacities up to 40,000 pounds per shelf.

PROPER STORAGE SYSTEMS, INC.

2200 HWY 90 EAST

SEGUIN, TEXAS 78155

WEB SITE; http:properstorage.com

E-MAIL; pssi@connecti.com

TEL; 800-516-0138 FAX;800-428-5118